Huffington Post by Jennifer Andrews 01 March 2017
Did the recent photograph of the RCMP officer welcoming illegal refugees into Canada make you feel warm and fuzzy? Because here is what the image doesn't reveal.
These same refugees experience hunger and severe frostbite. They have travelled thousands of miles and crossed multiple continents. Their worldly possessions are contained in a single suitcase or bag. They have no money. Once they cross the border into Canada, they are handcuffed and processed. They are then detained. Their future is uncertain. They may be deported.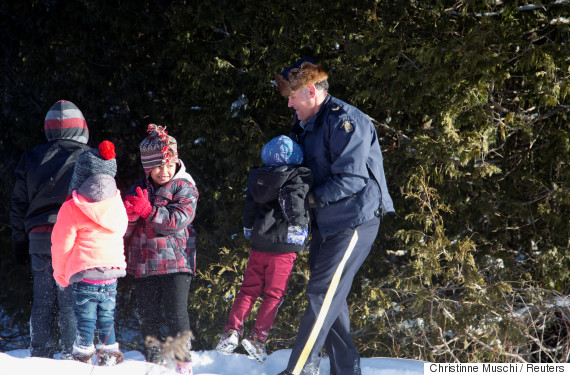 A Royal Canadian Mounted Police (RCMP) officer assists a child from a family that claimed to be from Sudan as they walk across the U.S.-Canada border into Hemmingford, Canada, from Champlain in New York, U.S., Feb. 17, 2017. (Photo: Christinne Muschi/Reuters)
As the most recent print issue of Maclean's Magazine suggests, rural border crossings have become "the new Underground Railroad." After 9/11, Canada and the United States signed a Safe Third Country Agreement. Refugees who arrive at an official border crossing in Canada or the U.S. must stay in the country they reach, first. But refugees arriving in the U.S. are no longer sure that they will be allowed to stay. Like the millions of undocumented workers in the U.S. who have gone underground to avoid deportation, refugees have few options. As photos and footage shown on the nightly news make clear, refugees are continuing to risk their lives in hope of a better future.
Ghanaian refugee Saidu Mohammed exemplifies the real-life dangers of completing such a crossing. He walked from North Dakota to Emerson, Manitoba in -20 degree Celsius temperatures on Christmas Eve. He lost his fingers to frostbite as a result of his seven-hour trek toward the Canadian government. Saidu reached the U.S. after six months of travelling on planes, buses and boats. He fled Ghana because of his sexual orientation. He feared that he would not get a fair hearing in the U.S. He came to Canada because he believed that he would be able to start a new life.
Since Trump became president of the United States, the numbers of refugees crossing into Canada has increased dramatically. Small communities on the Canada-U.S. border have been especially hard hit, with refugees crossing into Lacolle, Quebec, and Emerson, Manitoba every day. The resources of these towns are limited.
First responders, firefighters and RCMP in Lacolle, Quebec, and Emerson, Manitoba, have been praised for their hard work, generosity and quick action. Local residents fear that refugees are being forced to risk their lives to get Canada. NDP MP Jenny Kwan has questioned Canada's confidence in the American refugee system. Yet Conservative MPs have called for increased border security and stressed the threat these refugees pose to national safety. The minister of immigration, himself a Somalian refugee, remains committed to upholding the Safe Third Country Agreement.
To be exceptional is to figure out a way to give them a chance to contribute to our country, without having to go underground yet again.
Canadians take considerable pride in our public commitment to equality and diversity. Canada was the final stop north on the Underground Railroad, a group of people who helped African-Americans to escape from slavery to freedom. Martin Luther King Jr. delivered the Massey Lectures in Toronto in 1967 — the centennial of Confederation. He described Canada as "the North Star." No wonder we like the idea of being the better neighbour. But when we celebrate Canada's role in the Underground Railroad, we ignore reality.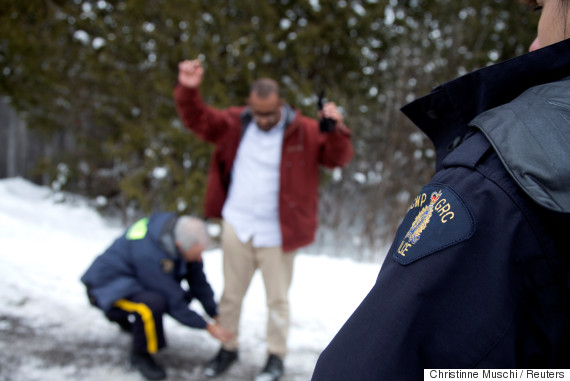 A man from Yemen is taken into custody by Royal Canadian Mounted Police (RCMP) officers after walking across the U.S.-Canada border into Hemmingford, Quebec Feb. 14, 2017. (Photo: Christinne Muschi/Reuters)
Slavery and racism are part of Canada, even today — think of Africville in Nova Scotia, police use of racial profiling across the country, and the lack of clean drinking water on numerous First Nations' reserves. Canada is not immune to human trafficking. According to the latest Global Slavery Index, our country is estimated to house roughly 6,500 slaves. Many are forced to work in the sex trade, as domestic workers, or in agriculture. These people want a better life and end up trapped, without access to basic human rights, education or health care.
The Canadian government continues to treat the United States as a "safe country." Canada has been described as "exceptional" in welcoming over 40,000 Syrian refugees between November 2015 and March 2016. But we are not done.
To be exceptional is to be unusual, rare or outstanding. Right now, we are none of those things. To be exceptional is to figure out a way to make it safe for refugees fleeing the U.S. to come to Canada and to give them a chance to contribute to our country, without having to go underground yet again.
Jennifer Andrews teaches Canadian, American, and Indigenous literatures at the University of New Brunswick. Her current research focuses on the Canada-US border and what Americans think about Canada.