Our workshops are open to those who identify as women and gender-diverse only.
Informed Opinions is a charitable organization committed to amplifying underrepresented voices in the media. All workshop revenues are invested in future training, research and resources.
Date: June 9 & 16, 2021
Time: 12:00 – 1:30 pm ET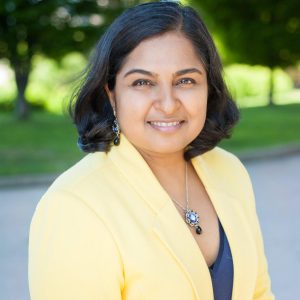 Do you ever feel like a fraud?
Facilitator, Sweta Rajan defines imposter syndrome as "a symptom of the systemic barriers women navigate every day." Her own familiarity with those barriers is informed by her experiences as a scientist operating in a male-dominated field, her intersectional identities as an immigrant woman of colour, and her insights as a diversity and inclusion consultant.
Sweta helps participants re-evaluate unconsciously absorbed messages that undermine their confidence, flagging instead the systemic barriers women navigate every day.
Reframe your thinking to recognize the inadequacies of external environments, and identify strategies to assert your value and facilitate your contribution.
This two-part workshop supports participants to:
✔️ Reframe their perception of the problem from something that's personal to something that's societal;
✔️ Identify the circumstances, systems and attitudes that have shaped their perception of the issue;
✔️ Broaden their appreciation of the resources, strategies and connections that can complement their existing strengths.
SOLD OUT! To ensure we can provide workshop attendees with personalized feedback and an interactive learning experience, this workshop can only accommodate 16 attendees. 
Have questions about this workshop? Email us at info@informedopinions.org
Other workshops available in June:
Sign up to be notified of additional upcoming workshops, clinics and master classes.
Looking for customized training? We provide a range of tailored workshops to suit the needs of any organisation. A list of all our offerings can be found here.