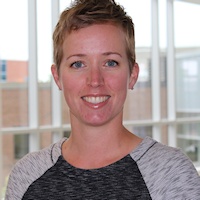 Modulation of early modality-specific cortical potentials by attention, and associated changes in task performance
Published by Behavioural Brain Research
September 1, 2017
Adams, MS; Popovich, C; Staines, WR.
Early modality-specific cortical regions are modulated by attended visual stimuli: interaction of vision, touch, and behavioural intent
Published by Frontiers in Psychology
April 1, 2014
Staines, WR; Popovich, CM; Legon, JK; Adams, MS.
Biography
My research focuses on assessing motor, cognitive, and sensory changes after concussion in working-aged people. I'm particularly interested in differences between men and women. My career began in clinical physiotherapy, and I have worked insports medicine and vestibular rehabilitation, focusing on concussion rehabilitation. In my business, OneBrain Neuroscience, I provide evidence-based concussion and neuroscience education to health care providers and fitness professionals. I went into health care because I wanted to help people, and teaching concussion best practices and explaining the amazing power of the brain to guide movement, I am able to help many more people than I can in my clinical practice alone.
Past Talks
Poster: Attentional gating at early cortical processing stages is associated with changes in behavioural peformance on a motor task with sensory conflict
Society for Neuroscience Conference
San Diego, CA, November 21, 2016
Poster: Changes in early visual and tactile processing after recovery fron concussion
Canadian Physiotherapy Association Congress
Victoria, BC, May 16, 2016
Concussion Neuroscience: Emerging Tests
Sport Physiotherapy Canada Concussion Symposium
Women's College Hospital, Toronto, ON, November 26, 2016