What is Making Waves?
Making Waves is an inspiring, energizing and free event that encourages young women (14-19 years) to speak up and take action. It is created with and for young women, and planned and executed by a group of women who are diverse in age, ethnicity, discipline, background and experience.
Join us on May 1st for our always informative and inspiring Making Waves Workshop.  It is online and free!  
Our keynote speaker for our 4th Annual event is Denise Balkissoon, Ontario Bureau Chief for The Narwhal.  We will get the chance to not only listen and learn, but there will be a q&a, as we always build in opportunities to speak up and interact with our guests and each other. 
The 2022 Intergenerational Panel are decisive wavemakers who aren't waiting until the right time.  They are using their voices to make a difference now. High school students Hayley Bryant and Jade Sather recently organized #walkout4consent to demand consent education be included in curricula across Canada from K-12.  Amirah Azmi is a tireless advocate for racial and gender equality at Mount Royal University.  Aditi Loveridge co-founded the Pregnancy and Infant Loss Centre and is pushing for change bereavement leave, and Janis Irwin, MLA and Critic for the Status of Women and LGBTQ2S+ Issues consistently amplifies and supports the voices of those whose voices do not have an equal place in public discourse or society. 
We can't wait for you to join us!  For more information and to register, click on the poster below.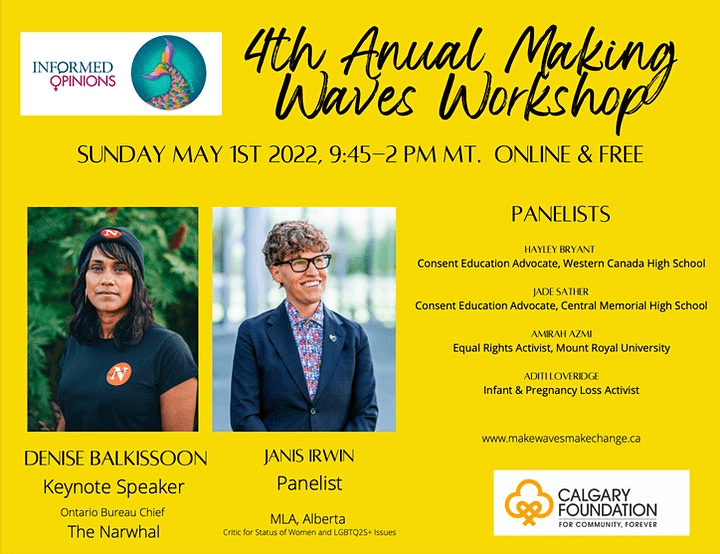 Our Story
"I had no idea my voice could be so powerful! Imagine if I had heard this message when I was going to university!"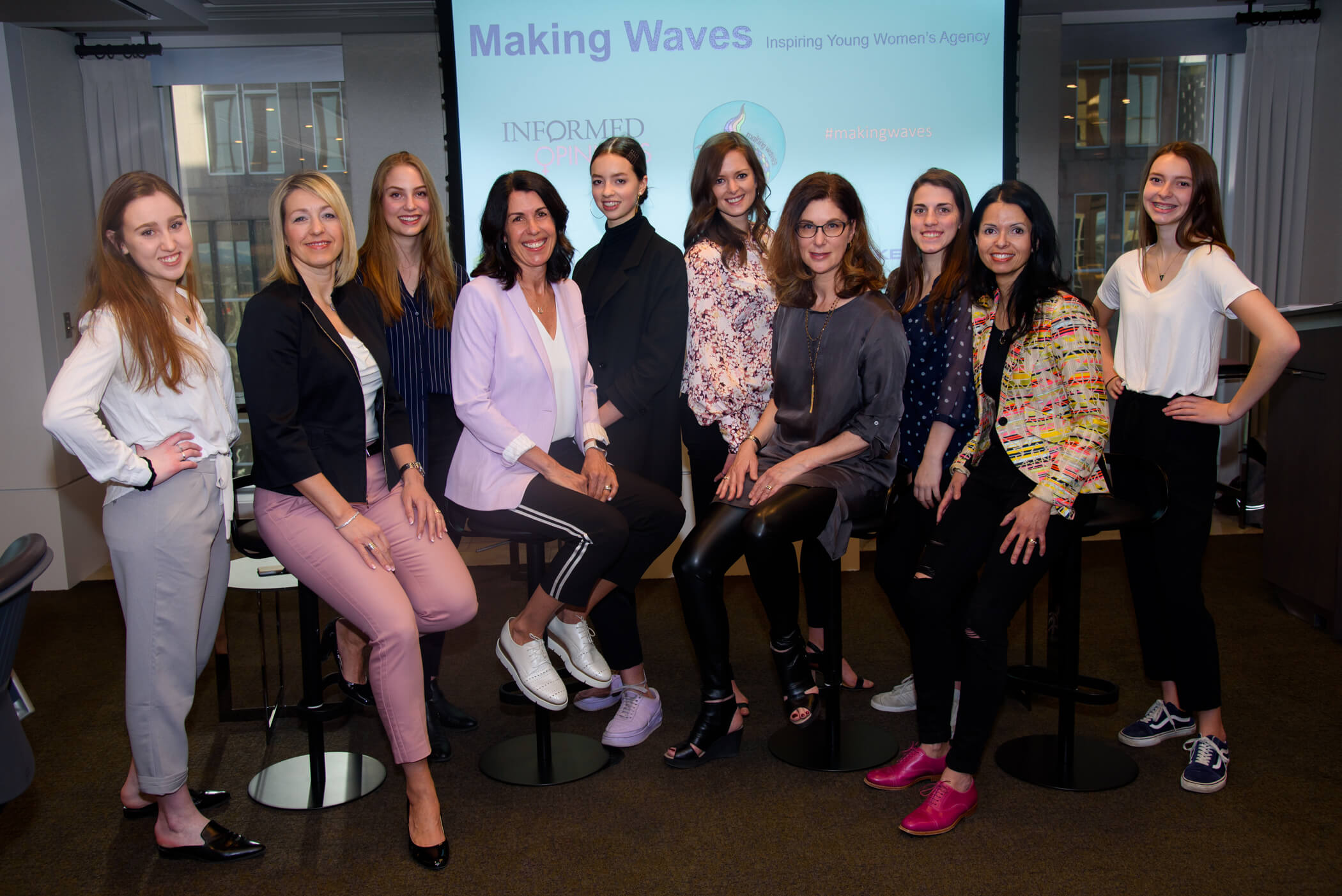 This was the thought that popped into Hanita Simard's head after experiencing an Informed Opinions' session with Shari Graydon in September 2018. Inspired to take action herself, Hanita emailed Shari proposing a workshop for young women.
Then, with the help of her teenage daughter, Avery, she convened a cross-generational committee and together they created Making Waves.
The first event in April 2019 generated such incredible synergy among the 50 young women (open registration) and 20 adult women (invitation only), that we decided to do it again in 2020. Although the pandemic forced it online, it, too, was such an astonishing success that we are now planning to expand it. 

Who helps to make Making Waves happen?
Making Waves is free to participants, thanks to our generous sponsor, The Calgary Foundation. The initiative received additional support from Keyera in 2019 and Axia in 2020.  The commitment of these organisations to Making Waves has enabled us to create an event to remind all women that they matter, and that what they say has value and is important for everyone to hear. It means we're able to inspire and be inspired, that we can build a network and community to work together to advance gender equality.