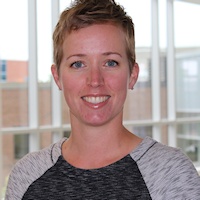 Please note: some results are paginated. Use the Previous and Next buttons to navigate backward and forward through the listings where applicable.
Media/Médias
Biography/Biographie
I'm a physiotherapist trained in sports medicine and vestibular rehabilitation, with a clinical focus on concussion rehabilitation. I began my PhD becuase I wanted to answer questions about how concussion affects the brain. My main interest is in understanding how concussion affects cortical processing of sensory stimuli, especially when the stimuli are conflicting. I also feel that, as a clinician-scientist, it is my responsibility to move science out of the lab and into the hands of other clinicians. This was my goal when I started my business, OneBrain, which provides high-quality, evidence-based concussion and neuroscience education to health care providers and fitness professionals. I went into health care because I wanted to help people, and teaching concussion best practices and explaining the amazing power of the brain to guide movement, I am able to help many more people than I can in my clinical practice alone.