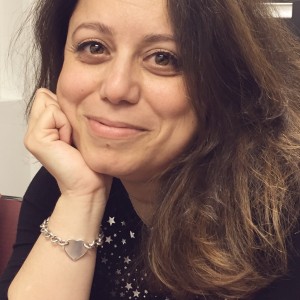 Nadia Naffi, of Concordia University, is one of the Top 25 finalists in the Social Sciences and Humanities Research Council's 2017 Storytellers challenge.
Nadia Naffi est étudiante à l'Université Concordia. Elle a présenté en trois minutes sa thèse « Comment les jeunes des sociétés d'accueil construisent leur rôle dans l'intégration et l'inclusion des réfugiés syriens dans un contexte où la présence potentielle des nouveaux arrivants est construite en fonction du contenu partagé en ligne » à l'occasion de la finale nationale du concours Ma thèse en 180 secondes, organisée par l'Acfas au Jardin botanique d'Espace pour la vie, le 4 mai 2017.
Cet événement était présenté par Hydro-Québec, en partenariat avec l'Association canadienne pour les études supérieures et le Canal Savoir.
Presentation at the Centre for Immigration Policy Evaluation (CIPE), Concordia University: As Syrians were seeking asylum in host countries, online transnational conversations sparked debates between people who wished to accept them and people who rejected them. The unfortunate terror attacks in Europe had ramifications on the resettlement of Syrian refugees across the world, which were largely caused by the outreach of online conversations. The Internet in general and social media in particular facilitated the dissemination of racism and of intolerance. Research on youth and social media claim that youth are influenced by the plethora of messages shared online. They are viewed as victims whose thoughts and behaviours are easily triggered and manipulated by exterior online forces. Through her research, Nadia Naffi argues that host society youth need to be considered as agents of change and key players in the integration and the inclusion of Syrian refugees. Her overarching objective is to develop a thorough understanding of the influence of online content on the integration and the inclusion of newcomers in host societies in order to better prepare host society youth to play their role of agents of change. https://www.concordia.ca/artsci/polisci/events/cuevents/artsci/polisci/2017/the-influence-of-social-media-on-the-integration-and-the-inclusi.html
Interview with Derick Fagel. Breakfast Television Montreal. City TV. (September 20, 2016). Social Media Attitudes Toward Syrian Refugees. Anti-refugee sentiment toward Syrians arriving in Canada is rampant on social media and Concordia University PhD candidate Nadia Naffi is investigating these online interactions and how the message is influencing attitudes. http://www.btmontreal.ca/videos/5133202970001/
Depuis les attaques terroristes et les agressions sexuelles qui se sont produites en Europe, les réfugiés Syriens et les musulmans sont dépeints comme des monstres dans les médias sociaux. Ces histoires de monstres partagées en ligne vont terrifier nos jeunes des sociétés d'accueil. Ils risquent non seulement de redouter ces nouveaux arrivants, mais aussi de les refuser et les exclure pour se protéger. A travers ma recherche doctorale, j'ai rencontré 42 jeunes entre 16 et 24 ans de plusieurs pays d'accueil tel que le Canada, la Belgique, et la France afin d'essayer de comprendre comment développer un mécanisme d'auto-défense chez nos jeunes des sociétés d'accueil –une auto-défense non pas contre les nouveaux arrivants, mais bien contre les messages haineux et les histoires déformées et politisées partagés en ligne. Durant ma présentation je partage le résultat inattendu qui a émergé de plus de 150 heures d'entretiens en profondeur avec ces jeunes.
Social Media Attitudes Toward Syrian Refugees
Biography
I am an Assistant Professor at Concordia University in the Educational Technology program, expert in disruptive pedagogy, and recipient of the Governor General Gold Medal – Person and Society – 2018.
I was selected as a Concordia Public Scholar for 2017-2018 and was one of the winners of the SSHRC Storyteller national competition.
I delivered presentations and keynotes in national and international conferences on topics including: improving human performance, teaching with social media, online problem-based learning, online learning communities, maker movement, cyberbullying, teaching about extremism, and online propaganda.
My doctoral research addressed how hate, fear, and prejudice spread through social media. She identified a five-step model called "Get Ready to Act Against Social Media Propaganda", which can be used in youth education to disrupt hate discourses.
Today my current work focuses on answering two questions:
1) How can human interventions and ethical AI be mobilized to counter intolerance and hate speech?
2) How can we equip instructional designers and performance consultants to thrive in an era of artificial intelligence?
I am affiliated with Milieux Institute for Arts, Culture, and Technology and the Centre for Immigration Policy Evaluation (CIPE) at Concordia University and the EILab at UOIT.
Always happy to connect!
Website: https://nadianaffi.com
Recognition/Reconnaissance
Winner of SSHRC Storytellers National Contest | Professional
http://www.sshrc-crsh.gc.ca/news_room-salle_de_presse/latest_news-nouvelles_recentes/2017/final_five-cinq_grands_gagnants-eng.aspx
Concordia Public Scholars Award 2017-2018 | Professional
https://www.concordia.ca/content/shared/en/news/main/stories/2017/01/30/phd-students-new-public-scholars.html
The ACFAS Certificate | Professional
Selected to represent Concordia University at "Ma these en 180 secondes 2017"
Concordia's Newsmaker of the Week | Professional
http://www.concordia.ca/content/shared/en/news/main/items/2016/10/3/newsmaker.html
Concordia 3-Minute Thesis PhD Runner Up Award 2017 | Professional
https://www.concordia.ca/students/gradproskills/events/3-minute-thesis-project.html
Concordia Public Scholars Award 2017-2018 | Professional
https://www.concordia.ca/content/shared/en/news/main/stories/2017/01/30/phd-students-new-public-scholars.html
Additional Titles and Affiliations
The Milieux - Community + Differential Mobilities Cluster at Concordia University
The Centre for Immigration Policy Evaluation (CIPE) at Concordia University
EILAB - An International Centre of Innovation in Digital Learning at UOIT
Past Talks
https://nadianaffi.com/publications?iframe=true&theme_preview=true
National and International Conferences and Congresses
Canada, France, Portugal, and Italy, March 25, 2017