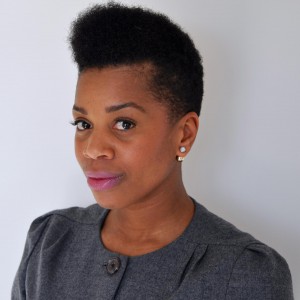 Let's run for political office in Canada together. Please?
Results from the 2015 Canadian federal elections are in.
Education, Women and Leadership
"Yoncé" aka the moment everyone wanted to be Joan Small. References: Beyoncé's video: "Yoncé" https://youtu.be/jcF5HtGvX5I Beyoncé's video: "Partition" https://youtu.be/pZ12_E5R3qc Audre Lorde article: "Uses Of The Erotic"
Naila Keleta-Mae is an assistant professor of Drama in the Faculty of Arts, University of Waterloo. She is a practicing performance poet, playwright, and recording artist. Her research on theatre and performance in Canada uses the theoretical and methodological frameworks of feminist and critical race studies to engage historically under-examined areas of inquiry. Dr Keleta-Mae's scholarly writings and presentations are informed by her theatre practice and often include artistic elements. Likewise, her lectures and assignments often ask students to engage creatively with course material through performances and/or performative writing.
Dr. Naila Keleta-Mae performs at Words Aloud 12 Spoken Word Festival, Durham, Ontario, Canada. November 7, 2015
If you've got a lawn, we've got an election.
http://tedxuw.com/speakers When artist-scholar Dr. Naila Keleta-Mae's parents were searching for a suitable name in anticipation of her birth, their quest led them to an issue of Ebony Magazine that included a list of African names, along with their pronunciation and origin. They ultimately chose the North African name Naila, and practiced pronouncing it in the months before she was born using the guide provided, "nah-ee-lah". Naila's parents' choice, though, was based on the name's meaning, "one who succeeds," and time has shown their decision to be a prescient one. In fact, it didn't take long for success to come. At the age of 9, Naila won her school's speech arts competition for her adaptation of "Goldilocks and the Three Bears," which she title "Goldilocks and the Three People." She continued to excel throughout high school, winning a provincial public speaking contest organized by the Lions club and performing her first spoken word poem, "Rude Gyal Undressed", on a staged shared with local hip hop artists including Kardinal Offishall. Her talent continued to develop while she completed her undergraduate degree at Concordia University in Montreal, where she immersed herself in spoken word poetry and theatre, eventually writing, performing and recording her works. This work was well-received and allowed Naila the opportunity to complete two separate artistic residencies in South Africa, before returning to Canada to pursue a Magisteriate degree (gender neutral for Master's), and later a PhD, in Theatre at York University. Keleta-Mae won a number of awards during her studies, and has been featured in publications ranging from Canadian Theatre Review to The Toronto Star. She has become known for her charismatic versatility and gut-wrenching content, and her efforts to continue to develop her talents in poetry, music, and spoken word over the last decade have produced two spoken word albums, two plays, at least two film appearances, and one book of poetry. Naila joined the Department of Drama and Speech Communication at the University of Waterloo in 2011 as an Assistant Professor, where she has enjoyed having the chance to apply her own teaching philosophy to the classroom. This teaching philosophy mirrors Keleta-Mae's own approach to life, which will become more evident to TEDxUW 2012's audience as she weaves a number of her well-developed talents together in her Talk. -- In the spirit of ideas worth spreading, TEDx is a program of local, self-organized events that bring people together to share a TED-like experience. At a TEDx event, TEDTalks video and live speakers combine to spark deep discussion and connection in a small group. These local, self-organized events are branded TEDx, where x = independently organized TED event. The TED Conference provides general guidance for the TEDx program, but individual TEDx events are self-organized.* (*Subject to certain rules and regulations)
Where's Mr. Carter? The Professor wants to know.
The Professor's verdict? Grown Women drink Pepsi. Grown Woman: https://youtu.be/y3MjxWn5W9M
The professor is in. "Why I'm Teaching A University Course on Beyoncé" http://www.huffingtonpost.ca/naila-keletamae/beyonce-feminism-course_b_7612638.html --------------------------- Some of the Media Coverage: Business News Network: http://www.bnn.ca/Video/player.aspx?vid=692710 The National Post: http://news.nationalpost.com/arts/beyonce-is-getting-her-own-course-at-the-university-of-waterloo-what-the-academe-can-learn-from-queen-bey Canadian Broadcast Corporation: http://www.cbc.ca/news/canada/kitchener-waterloo/beyonc%C3%A9-course-debuts-this-fall-at-university-of-waterloo-1.3110889 Flare Magazine: http://www.flare.com/celebrity/university-of-waterloo-beyonce-class-naila-keleta-mae/ ABC News: http://abcnewsradioonline.com/music-news/2015/6/12/university-of-waterloo-offers-beyonce-college-course.html
The Professor is in with an analysis of "Pretty Hurts." Further Reading: McKittrick, Katherine. "The Authenticity of This Story Has Not Been Documented: Auction Blocks." Demonic Grounds: Black Women and the Cartographies of Struggle. Minneapolis: University of Minnesota Press, 2006. 65-90.
Oh no. The professor's verdict is in. This week's homework: comment, like, share.
Off tune, Tenors: 'All lives matter' is always an ignorant claim
Black Lives Matter is dramatic, unsettling and inconvenient. That's the point.
After Muhammed Ali, will there be another athlete to champion black rights?
Susan Bennett, ed. Feminist Theatre and Performance; Maureen Moynagh, ed. African-Canadian Theatre.
Published by Theatre Research In Canada
2012 Certainly one of the challenges of creating an ambitious and necessary series like Critical Perspectives on Canadian Theatre in English would be to determine the title of each volume and thus the ways in which readers are encouraged to engage with and draw connections to the material. Maureen Moynagh's and Susan Bennett's edited volumes provide important insights into three critical areas of inquiry in Canadian theatre and performance studies: African-Canadian theatre, feminist theatre, and feminist performance. When read together, Moynagh's and Bennett's volumes are also rife with intriguing points of intersection that problematize, in refreshing ways, the parameters set by their respective volume titles. African-Canadian Theatre and Feminist Theatre and Performance both include analyses of the implications for scholars, critics, and artists who, among other commonalities, work in historically under-examined fields of inquiry and stage subjects and subject matters that affirm and destabilize dominant notions of the Canadian nation-state. Informatively, both Moynagh's and Bennett's volumes also include an array of approaches for how scholars, critics, and artists subvert and engage these difficult realities. What emerges in these lucid volumes is a survey of complex theatrical practices, practitioners, subject matters, and, especially in the case of Bennett's volume, methodology. Organized chronologically, African-Canadian Theatre and Feminist Theatre and Performance suggest historical trajectories and gesture towards a canon. However, with varying degrees of emphasis Moynagh and Bennett resist categorizing their respective volumes as authoritative accounts, and instead both editors highlight the importance of continued research and writing to the expansion of their respective fields.
URL: https://journals.lib.unb.ca/index.php/tric/article/view/20343/23471
Outskirts to Mainstream?: Performance Poetry on the Move
Published by Canadian Theatre Review
2012 Montreal, circa 1999: a large manila envelope from the Canada Council for the Arts was wedged into the cramped mailbox of the old lopsided apartment building I lived in. I read it as I climbed the four rickety flights of stairs to my door and was surprised to learn about a new program called Spoken and Electronic Words created to fund artistic projects by performance poets. Successful applicants received money to create and produce work and kept profits from product sales. Preposterous, I thought. Shortly thereafter I conceived a project, submitted my first arts grant application and two years later launched my first performance poetry album with the grant I received. Since the funding program's inception many performance [End Page 76] poets have become proficient grant writers, sat on arts council juries, developed relationships with grant officers, and learned to pitch projects that meet multiple guideline criteria in language that resonates with jurors.
A Pedagogy of Justice
Published by Canadian Theatre Review
2011 Within the deeply subjective space of post-secondary classrooms where art is both subject and praxis, canon and methodology frequently converge to reproduce asymmetrical systems of power. The disruption of these systems is arduous and rewarding work, work that requires a committed consortium of students, teachers and extended community. My teaching practice is a pedagogy of justice that uses divergent source material to challenge participants to interrogate the historical, political, and cultural components of their frameworks of analysis and those at play in the material at hand. Within the intellectually rigorous learning environment that my pedagogy of justice requires, I aim to teach students to enrich their thinking and communicative skills through critical self-reflexivity. This is risky business. It asks students and teachers to look closely at their moorings and at times to untie systems of meaning-making that have held together their worldviews for a long time.
URL: http://www.utpjournals.press/doi/abs/10.3138/ctr.147.38
An Autoethnographic Reading of Djanet Sears's The Adventures of a Black Girl in Search of God
Published by Theatre Research In Canada
2015 Djanet Sears's play The Adventures of a Black Girl in Search of God offers a generous opportunity for the careful contemplation of the intersections between Christianity, motherhood, and blackness in Canada—a topic hitherto unexamined in scholarship about Sears's plays. The protagonist's search for God is a personal exploration of self in relation to each of these topics; similarly, Naila Keleta-Mae draws from the analysis of self through the article's incorporation of methodologies employed in autobiographical performance and autoethnographic research. Specifically, the author maps her examination of Sears's play through her own body and experiences of Christianity, motherhood, and blackness in Canada. One of the key ways that this article seeks to differ itself from traditional Canadian scholarship is by foregrounding the explicit ways the scholar's topic of inquiry intersects with her/his/their personal lived experience. To some extent, this article is about visibility and transparency—it is an effort to make equally visible the preoccupations of the scholar in her/his/their analysis of a subject matter—in this specific case it is the unambiguous articulation of why Keleta-Mae cares about Sears's play.
URL: https://journals.lib.unb.ca/index.php/TRIC/article/view/23106
Biography
Dr. Naila Keleta-Mae (Na-ee-la Ka-lee-ta May) is an award-winning Professor of Theatre and Performance at the University of Waterloo where she researches race, gender and performance. She holds a PhD in Theatre Studies (York University), an MFA in Theatre (York University) and a BA in Journalism (Concordia University). Her primary research areas are gender, popular culture, and black culture; specifically the work of Beyoncé Knowles Carter. Her research and teaching on Beyoncé has received extensive media coverage. Dr. Keleta-Mae has written op-eds for publications including the for Globe and Mail, The Fader, and Vice; appeared on Pop Culture Panels for CBC Radio, and been interviewed by media outlets including BBC Radio, CTV, and Business News Network. Dr. Keleta-Mae has received numerous scholarships and awards for her research on female blackness and performance, including: a Lois-Claxton Humanities and Social Sciences Award (University of Waterloo), a Mary McEwan Award for Feminist Scholarship (York University), and an Abella Scholarship for Studies in Equity (York University). Dr. Keleta-Mae's scholarship appears in publications including the journals Theatre Research in Canada and Canadian Review of American Studies, the magazine Canadian Theatre Review and the book In Defense of Theatre (Eds. Kathleen Gallagher and Barry Freeman). She is also frequently invited to be a guest speaker and her public appearances include keynote addresses and a TEDx talk.
Past Talks
Women To Women Conference
Waterloo Elementary Teachers Federation of Ontario
Waterloo, Canada
Courageous Voices Play
EAST Alternative School
Toronto, Canada
Beyond the Hashtag: Race in the Postsecondary Classroom
Canadian Association of Cultural Studies, "Disruptions Conference"
Waterloo, Canada
Challenging Oppression Conference
Elementary Teachers Federation of Ontario
Toronto, Canada
Research Grants
Lois Claxxton Humanities and Social Sciences Award
Organization: University of Waterloo
Date: June 30, 2016
Grant amount: 5500
Details:
Research project title: "Politics and Performance"
Mary McEwan Award
Organization: Centre for Feminist Research, York University
Grant amount: 500
Details:
Awarded in 2014 to one dissertation that exemplifies feminist scholarship. Dissertation title: "(Re)Positioning Myself: Female and Black in Canada."
Joseph-Armand Bombardier Canada Graduate Scholarship
Organization: Social Sciences and Humanities Research Council of Canada
Grant amount: 105000
Details:
Awarded from 2008-2011 for doctoral research on female blackenss in Canada.
Abella Scholarship For Studies in Equity
Organization: York University
Grant amount: 3000
Details:
Awarded in 2011.