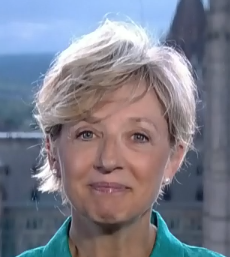 Why do women turn down media interviews? Shari Graydon, Founder of Informed Opinions, answers this question with an anecdote. More at: http://bit.ly/V0ZCxq
Journalist and women's advocate Shari Graydon speaks at Sam Sullivan's Public Salon, February 8, 2012, Vancouver Playhouse Theatre, Vancouver, Canada. Presented by Scotiabank and Global Civic Policy Society http://globalcivic.org/public-salons/ If you would like to be invited to future Public Salons please let us know here: http://globalcivic.org/email-subscription/
Meet Shari Graydon, catalyst behind Informed Opinions, a non-profit initiative that bridges the gender gap in public discourse by amplifying the voices of women in mainstream media. Learn More: http://nobelwomensinitiative.org/2014/11/meet-shari-graydon-canada/?ref=285 Visit our blog during 16 Days of Activism Against Gender Violence from November 25 to December 10 to meet 16 extraordinary women doing incredible work: http://bit.ly/NobelWomen-16Days
Informed Opinions' Catalyst Shari Graydon shares proven presentation strategies and concrete examples.
Your research is important and deserves as much attention as possible. But if no one can understand what you're talking about, what's the point? University Affairs magazine and Informed Opinions have teamed up to bring you a video series on how to communicate your research to a wide audience. Hosted by Shari Graydon, it will offer tips on making what you know and do more accessible and engaging. Improving your ability to communicate your research clearly and concisely can help you secure funding, impress in job interviews and even just refocus your brain when you get stuck on a paper or article. In this first video, Shari shares strategies for describing what you know in ways that lay audiences can appreciate...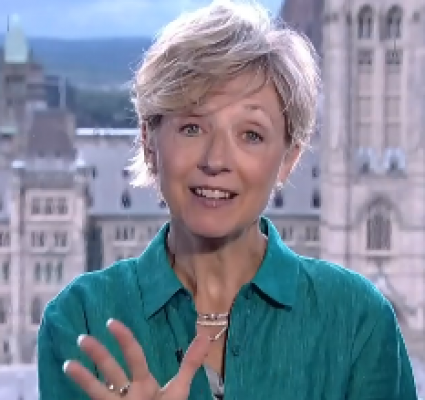 The significance of "vocal fry" in women's speaking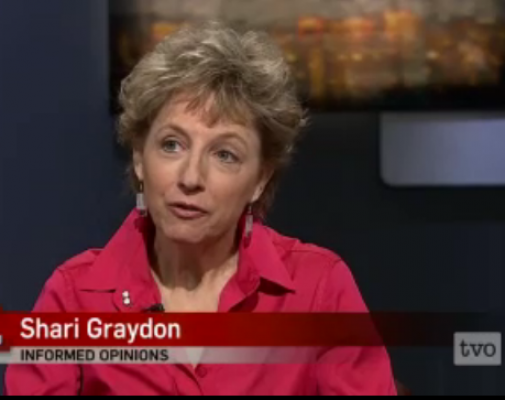 Are "Binders Full of Women" Needed?
Informed Opinions
March 1, 2015
978-0-9949424-1-8
Annick Press
September 1, 2013
1554515602
THE kids' survival guide to advertising, revised and updated for the digital age. Ads are everywhere these days: they are trying to be your friend on Facebook, popping up in the background of your videogame, and even messaging your phone when you walk by a store. More than ever before, kids are the prime target of these marketing messages. But they also have more power than ever to fight back. For ten years, Made You Look has been an essential self-defense guide for anyone trying to make sense of the complex world of advertising. Now fully revised and with a fresh new look, the book has been updated to reflect the modern ad landscape, from digital tracking and cookies (not the chocolate chip kind!) to social media, viral videos, and reality television. From the earliest roots of advertising to the undercover marketers of the 21st century, this revealing book shows readers where ads come from, how they work, and why kids need to be informed. Bursting with real-life examples, thought-provoking questions, hip illustrations, and plenty of tips to empower young consumers, Made You Look is every kid's ultimate guide to the advertising universe.
Douglas & McIntyre
May 31, 2011
1553657861
In our youth-obsessed world of Botox, plastic surgery and anti-wrinkle creams, Nora Ephron struck a chord with I Feel Bad about My Neck, a collection of essays that included several lamentations on the deterioration of her aging body. Women's advocate and acclaimed writer Shari Graydon set out to counter the supposed downhill slide-inspired grief by inviting notable women-all over fifty-to provide an alternative perspective. The result is a colorful anthology that pays homage to Nora Ephron but challenges the melancholy with a lively, often thoughtful, sometimes irreverent and ultimately uplifting celebration of the wonderful aspects of maturity.I Feel Great about My Hands is a collection of stories, essays and poems that showcases a diversity of voices—middle-aged, senior, straight, gay, Native, maternal, analytical, sentimental, political. But all of these women are embracing—some warmly, some perhaps grudgingly—the changes, discoveries and wisdom that come with age. From Gemini award-winning funny woman Mary Walsh's tongue-in-cheek romp about the preparation provided by years of playing a "big, loud, opinionated old bag," to celebrated poet Lorna Crozier's hilariously graphic contribution of "My Last Erotic Poem" ("Who wants to hear / about 26 years of screwing, / our once-not-unattractive flesh / now loose as unbaked pizza dough / hanging between two hands before it's tossed?"), this bold anthology captures a spectrum of viewpoints that nonetheless evoke a universal understanding of the triumphs that come only with years of accumulated experience.Royalties of the book will benefit Media Action, an organization dedicated to challenging the underrepresentation, stereotyping and sexual objectification of women in the media.
Annick Press
September 11, 2014
1554516668
A lively, thought-provoking look at the power and pitfalls of the beauty industry hype. From fairy tales and Hollywood movies to magazine ads, reality TV and the Internet, we absorb the lesson early: being beautiful is the answer to our dreams. It's harder than ever for teens to tune out the endless media messages promoting unattainable ideals, yet at no time in history have they had more tools to change the message. With In Your Face, Shari Graydon encourages readers to think critically about the culture of beauty both past and present. Whether it's the different standards for guys versus girls, racial and size biases, the assumptions we have about models and celebrities, or the message that the "right" clothes, makeup, or surgical procedure can make you a better person, Graydon's unbiased look into the realities behind our ideals will help teens deconstruct the beauty industry hype. Fully rewritten and redesigned from the 2004 edition, In Your Face has been updated to reflect the heightened pressures of beauty in the digital era—both good and bad—to shape our self-image. The appealing magazine-style format, stylish illustrations, and conversational tone will draw readers into this empowering exploration of the complex subject of beauty.
Biography
Shari Graydon is an award-winning author, educator and advocate with 25 years of experience on both sides of the microphone. She founded Informed Opinions, a project of Media Action, to amplify women's voices for a more democratic Canada. A former newspaper columnist, TV producer and commentator for CBC, she also served as press secretary to a provincial premier, and as president of the national women's organization MediaWatch (a predecessor of Media Action). Graydon has taught communications and presentation skills at Simon Fraser University, written speeches for public officials, and delivered communications and media training to public and private sector organizations across the country. Her best-selling media literacy books for youth, Made You Look – How Advertising Works and Why You Should Know and In Your Face – The Culture of Beauty and You were both honoured with children's choice award nominations and other book prizes. Proceeds from her collection of essays by 41 women, I Feel Great About My Hands - And Other Unexpected Joys of Aging, support Informed Opinions. Named one of Canada's Top 100 Most Powerful Women by WXN in 2006, Graydon received the Governor General's Award in Commemoration of the Persons' Case for her advocacy work on behalf of women the following year. In 2014 she was named a University of Windsor Distinguished Visitor in Women's Studies, and profiled by the Nobel Women's Initiative during their 16 Days of Activism initiative. Her most recent book, OMG! What if I really AM the best person? makes clear the consequences of women's absence from the public discourse.
Recognition/Reconnaissance
Top 100 Most Powerful Women | Professional
Recognition from WXN in the "Champions" category.
Norma Fleck Award for Canadian Children's Non-Fiction | Professional
Recognizing In Your Face - The Culture of Beauty and You. "The $10,000 Norma Fleck Award is the largest of its kind in Canadian children's books and is considered to be one of Canada's most prestigious literary prizes."
Governor General's Award in Commemoration of the Persons Case 2007 | Professional
This honour recognized Shari's contributions to advancing equality of opportunity for Canadian women through her advocacy work as president of MediaWatch (now Media Action) from 1990 - 2000, and as president of the Women's Future Fund from 2005 - 2008.
Children's Literature Roundtables Information Book Award | Professional
Recognizing Made You Look - How Advertising Works and Why You Should Know. "The award is given to a book that arouses interest, stimulates curiosity, captures the imagination, and fosters concern for the world around us. The award's aim is to recognize excellence in Canadian publishing of non-fiction for children."
Canadian Online Publishing Gold Award | Professional
Recognizing "Engaging Audiences", the video blog series Shari wrote and performed for University Affairs online, providing dynamic communications advice for scholars.
Additional Titles and Affiliations
President Media Watch 1990-2000
President Women's Future Fund 2005 - 2008
Judge BC National Award for Canadian Non-Fiction 2012
Board Member BC Centre for Excellence in Women's Health 1997 - 2010
Board Member Capilano College 1994 - 1997
Adjudicator and Mentor Loran Scholars Program
Past Talks
Women Speaking Up, Public Lecture
McMaster University
Hamilton, September 25, 2015
OMG! What if I really AM the best person? Public Lecture
Peter Lougheed Leadership College, University of Alberta
Edmonton, February 8, 2016
Making it About Something Bigger than Yourself
Judy Project, Rotman School of Business
Toronto, May 2, 2016
Bridging the Gender Gap, Ignite Talk
Women Making Change
Ottawa, March 10, 2016
Building Presence
Betty-Ann Heggy Womentorship Program
University of Saskatchewan, November 10, 2016
Amplificar las voces de las Mujeres, Opening Keynote
Hay Mujeres Conference
Santiago, Chile, March 29, 2016
Amplifying Women's Voices
Women in Nuclear conference
Toronto, November 7, 2016
Amplifying Women's Voices
Speaking Her Mind conference
University of Calgary, October 22, 2016