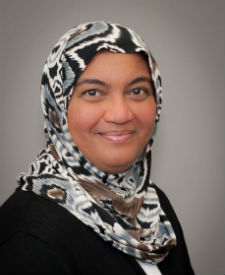 Why is it important to write our own story? It speaks to our individuality, our independence, our integrity. It speaks to our humanity. Use the pen of your conscience to write your own story. As a toddler, Sheema Khan emigrated from India to Montreal, where she immersed herself in Quebecois culture and quickly became fluent in French. Currently a patent agent in Ottawa, she is also a published author, soccer player and hockey mom. The path to patent agent has been an interesting one: She holds a Masters in Physics and a PhD in Chemical Physics, both from Harvard University. After completing post-doctoral research at MIT and McGill, Sheema worked as an R&D scientist in pharmaceutical sciences and is an inventor with numerous patents in drug delivery technology. In addition, since 2002, she has been a monthly columnist for Canada's national newspaper, The Globe and Mail. A collection of her columns have been published in the book Of Hockey and Hijab: Reflections of a Canadian Muslim Woman. In 2012, she was a recipient of a Queen Elizabeth II Diamond Jubilee Medal for service to Canada. This talk was given at a TEDx event using the TED conference format but independently organized by a local community. Learn more at http://ted.com/tedx
Episode 10 This verse in surat AtTawba was in response to a question Nusayba asked the Prophet pbuh. She wondered what in the Quran was sent toward women, and the ayah was revealed; "The believing men and believing women are allies of one another. They enjoin what is right and forbid what is wrong and establish prayer and give zakah and obey Allah and His Messenger. Those - Allah will have mercy upon them. Indeed, Allah is Exalted in Might and Wise" (9:71) Presented by Sr Sheema Khan, a columnist with The Globe and Mail. She also served as chair of the Canadian Council on American-Islamic Relations (CAIR-Can). She is the author of her book Of Hockey and Hijab: Reflections of a Canadian Muslim Woman. This collection of 50 short essays that form her book cover a range of topics, interweaving personal experiences of interfaith interactions and spiritual journeys as a Canadian Muslim woman with reflections on national and international political issues. The prophet Mohammed PBUH said "The person who directs others to goodness, is like the one who did it himself" Take advantage of that and please Like, Subscribe, and Share! Follow us on Twitter: @FSApro Like Us On Facebook: https://www.facebook.com/fsaproductions Check us out: www.FortheSakeofAllah.com
Read our blog post "Bringing the burqa and hijab to the west" http://bit.ly/9PgkYQ Author and journalist Sheema Khan on her life as a Canadian... and a Muslim. Sheema Khan served as chair of the Canadian Council on American-Islamic Relations, a grassroots advocacy group, from 2000-2005.
Interview by Raghad Ebied, MuslimaSuccess Coach with Dr. Sheema Khan - graduate of Harvard University, author of "Of Hockey and Hijab", and co-founder and former chair of Human Rights Organization in Canada. In this interview, Dr. Sheema Khan, a graduate from Harvard, community activist, educator, wife and mother, talks about the role her parents played in instilling in her a love of learning as a child which led her to pursue her studies at Harvard University,making her one of few Muslim women at the time attending the prestigious institution. She reveals her spiritual 're-birth' near the end of her studies which encouraged her to start volunteering at a hospital after completing her Ph D. in the cancer ward which she found to be an amazing experience. She also spoke about her community involvement in empowering Muslim youth and providing them with the freedom and responsibility to work on projects they were passionate about – which included youth like Zarqa Nawaz – the creator of Little Mosque on the Prairie and Native Deen. We spoke about the importance of fostering a healthy Islamic identity in a North American context which is integrated, compassionate and contributes to the betterment of society. Dr. Sheema was also one of the founders and served as chair of CAIR-CAN – an organization dedicated to advocating for Muslims' human rights in Canada. She also mentioned three key tips in how we can work with some of the resistance that still exists in encouraging Muslim women leadership and involvement which included: • Community leaders and imams listening to concerns of women and implementing them • Women need to make themselves heard which include approaching the leadership of the institution – whether it be the imam or the board with the intention of wanting to improve the institution and using a collaborative approach, as per the verse "The believing men and women are allies/supporters of one another" (Quran 9:71)- this should be the foundation of our community. • Women need to get access to sources of knowledge and have study groups and discuss their faith as women in today's world. Example of book in Arabic "Liberation of Women at the time of the Prophet" which examined every single verse and hadith that has to do with women and came to the conclusion that the role of women in prophetic society is very different than what we see in Muslim culture today in terms of participating and contribution. o Another really great source is 'Asbab al Nuzool ' – the context of the revelations of the verses of the Quran – which shows that women are very prominent in the Quran and we spoke about Surat Al-Mujadalah which is about a woman who complained about the mistreatment of her husband and she went to see the prophet about it and verses came down admonishing the practice that this woman came to complain of – verses that would be recited until the end of time – signifying the respect, love and compassion Islam has awarded to women and how elevated they are and how it is completely contrary to cases of domestic abuse that we hear of today. Therefore, it's important to study the Quran from women's perspectives so that we have balance and can regain and reclaim that women are involved in the intellectual pursuit of knowledge in the Quranic sciences. --- Raghad Ebied is founder and director of www.MuslimaSuccess.com which offers articles,online and LIVE courses, events and coaching to Muslim women to enable them to achieve excellence in their life and www.MuslimaSuccessTV.com, which is the first global online channel dedicated to inspire, educate and empower Muslim women. She has completed a Masters in Educational Leadership from the U.K., preceded by degrees in psychology, education and certifications in Leadership, Life Coaching, Adults Training, and Relationship Coaching, as well as courses in Islamic Studies, from Canada, and studies in positive psychology from Stanford University. She is a published author with various publications and has over 10 years of experience in speaking, training, and consulting services on educational excellence, leadership development, and diversity management to individuals, schools, government, non-profit, and community organizations.
When an official story is a monstrous lie: The textbook history of Canada's indigenous people
Published by The Globe and Mail
August 12, 2016
We need to step up efforts to stem Muslim youth radicalization
Published by The Globe and Mail
August 15, 2016
The personal politics of wearing a burkini
Published by The Globe and Mail
August 25, 2016
Plane talk: A handy glossary for the non-Arabic speaking flier
Published by The Globe and Mail
April 27, 2016
Earlier this month, Khairuldeen Makhzoomi, a California university student, was removed from a Southwest Airlines flight when a passenger became suspicious about his Arabic cellphone conversation. He had been speaking to his uncle in Baghdad about a recent United Nations dinner he attended. As the passenger glared at him, the 26-year-old told his uncle he would call later, adding, "Inshallah." This expression sealed his fate...
URL: http://www.theglobeandmail.com/opinion/plane-talk-a-handy-glossary-for-the-non-arabic-flier/article29764868/
Muslim men must learn to treat women as equals
Published by The Globe and Mail
January 6, 2016
From 2000 to 2005, I served as the chair of CAIR-CAN, a grassroots advocacy organization that fought discrimination against Muslims. Whether it was a Muslim woman denied employment because of her hijab, or the rendition of Maher Arar, we fought for basic human rights based on the Canadian Charter of Rights and Freedoms. This journey opened my eyes to my own double standards: I fought for Muslims to be treated with basic human dignity by the wider society, yet looked the other way when such treatment was denied to women within my own community...
URL: http://www.theglobeandmail.com/opinion/muslim-men-must-learn-to-treat-women-as-equals/article28034962/
It's time to confront 'the cancer of extremism'
Published by The Globe and Mail
January 15, 2015
In the fight against terrorism, Muslims must own their message
Published by The Globe and Mail
November 18, 2015
In the wake of the horrific slaughter in Paris, what steps do we take? Some believe the best antidote is punitive strikes meant to deter, if not destroy, those who would contemplate further murder of non-combatants. Others, such as Canadian author Nancy Huston, point to the macabre scales of death: The killing of innocents abroad by Western countries begets the killing of innocents at home. Either way, we are caught in a vicious cycle of "an eye for an eye." A policy, which Gandhi observed, that makes the whole world go blind...
URL: http://www.theglobeandmail.com/opinion/in-the-fight-against-terrorism-muslims-must-own-their-message/article27307352/
Fifty years in Canada, and now I feel like a second-class citizen
Published by The Globe and Mail
October 7, 2015
For Muslim women in Canada, a sense of vulnerability
Published by The Globe and Mail
May 14, 2016
After the Ramadan attacks, moderates must stand against hate
Published by The Globe and Mail
July 11, 2016
Biography
Sheema Khan has been a registered patent agent with the Canadian Intellectual Property Office since 2004, and with the United States Patent and Trademark Office since 2005. She has worked as a research scientist in the pharmaceutical industry and holds a number of patents in drug delivery. Sheema's practice includes patent drafting and prosecution in such diverse fields as chemistry, pharmaceutical sciences, biotechnology, physics, chemical engineering, mechanical engineering, green technology and business methods. Since 2002, Sheema has been a monthly columnist for the Globe and Mail, writing on issues pertaining to Muslims and Islam. In 2012, Sheema was awarded the Queen Elizabeth II Diamond Jubilee Medal for service to Canada. Sheema is a mother of three, and is fluent in English, French and Urdu.
Recognition/Reconnaissance
Tedx Talk: Write Your Own Story | Professional
Why is it important to write our own story? It speaks to our individuality, our independence, our integrity. It speaks to our humanity. Use the pen of your conscience to write your own story
Queen Elizabeth II Diamond Jubilee Medal | Professional
Created in 2012 to mark the 60th anniversary of Her Majesty Queen Elizabeth II's accession to the Throne as Queen of Canada, the Queen Elizabeth II Diamond Jubilee Medal was a tangible way for Canada to honour Her Majesty for her service to this country. At the same time, this commemorative medal served to honour significant contributions and achievements by Canadians. During the year of celebrations, 60 000 deserving Canadians were recognized.
2013 Jeanne Sauvé Address | Professional
The Jeanne Sauvé Annual Address celebrates the vision and values of the late Right Honourable Jeanne Sauvé, whose career, one representing many firsts –the first woman MP elected from Quebec to become a federal cabinet minister, the first woman to serve as Speaker of the House and as Governor General of Canada – is an enduring inspiration to today's young leaders.
Additional Titles and Affiliations
United Nations Association of Canada
Harvard Club of Ottawa
Intellectual Property Institute of Canada
American Intellectual Property Law Association
Past Talks
Speaker
ISLAM AND MUSLIMS IN THE 21ST CENTURY - Being Female, Canadian, and Muslim
Aga Khan Museum, Toronto, Ontario, May 15, 2016
Patents
COMPOSITION AND METHOD FOR PRODUCING MICROPARTICLE OF WATER-INSOLUBLE SUBSTANCE
Patent number: Japanese Patent No. 5539839
| Date: July 2, 2014
The invention uses combinations of natural or synthetic phospholipids, a charged surface modifier (for example, a high purity charged phospholipid), and a block copolymer coated or bonded onto the surfaces of the water-insoluble compound particles.
METHOD OF PREPARING STABLE SUSPENSIONS OF INSOLUBLE MICROPARTICLES
Patent number: Japanese Patent No. 5296954
| Date: September 25, 2013
Sub-micron and micron-size stable particles of water-insoluble or poorly soluble drugs or other industrially useful insoluble compounds suspended in an aqueous medium containing at least one surface modifier are prepared by selecting the surface modifier or modifiers such that the hydrophile-lipophile balance (HLB) of the composition, defined as formula (I)