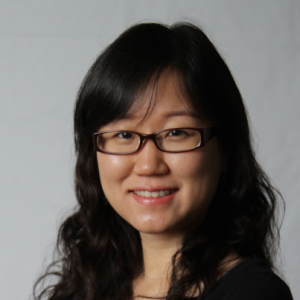 Jean Chen
Assistant Professor of Medical Biophysics, University of Toronto
As the Canada Research Chair in Neuroimaging of Aging, Dr. Chen studies brain physiology and brain function in aging. Her research focuses on the development and optimization of MRI tools for assessing changes in brain function, structure and the dynamics of blood flow in aging and dementia.
Biography
Prior to joining the University of Toronto faculty, she was a research fellow in Radiology at Harvard Medical School in Boston, where she investigated the vascular mechanisms of aging and Alzheimer's disease using advanced MRI techniques. She obtained her undergraduate degree in Electrical Engineering and her PhD in Biomedical Engineering. Her training took her across the country from Calgary to Montreal. Dr. Chen became a faculty member in Medical Biophysics at the University of Toronto in 2011. Since then, she has worked towards developing newer and better neuroimaging biomarkers to allow early diagnosis of dementia. The work of her team has generated intellectual properties as part of translational innovations in studying brain aging. She is also actively involved in the Communications Committee of the Organization for Human Brain Mapping, as she is committed to better scientific communication with the global community.
Recognition/Reconnaissance
Canada Research Chair in Neuroimaging of Aging | Professional
Canada Research Chairs are awarded to emerging and recognized national leaders in various research areas.
Additional Titles and Affiliations
Senior Scientist, Rotman Research Institute, Baycrest
Research Grants
Mapping the resting brain: a new frontier for studying neurovascular physiology in aging and neurodegenerative diseases
Organization: Canadian Institutes for Health Research: Foundation Scheme
Grant amount: $1,086,000
Details:
Aging, often accompanied by brain and cognitive decline, is an enormous challenge for the Canadian health system. In the past decade, functional magnetic resonance imaging (fMRI) has revolutionized the study of the aging brain. However, tasks or invasive challenges have traditionally been required to assess brain function. Resting-state brain mapping, which came on the scene two decades ago, does not require tasks or challenges, is particularly well suited to the elderly and patients, and has revealed age- and disease-related brain-network changes. However, despite heavy worldwide investment in resting-state fMRI, the resulting data are difficult to interpret and limited in utility. My research is dedicated to achieving a fundamental biological understanding of resting fMRI data, and to expanding current resting brain mapping techniques into a family of patient-friendly methods that provide useful assessments of brain health. Such techniques, which do not yet exist, will be important for healthy aging, as well as dementia and late-life depression. My work will lead to a paradigm shift in the global effort for large-scale information gathering in order to understand aging, eventually leading to the identification of viable therapeutic targets against Alzheimer's disease and other age-related brain diseases.
More information: http://webapps.cihr-irsc.gc.ca/funding/detail_e?pResearchId=7632437&p_version=CIHR&p_language=E&p_session_id=2684890