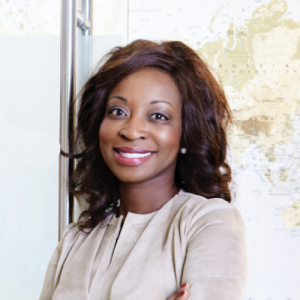 Evelyn Ackah
Founder and Managing Lawyer, Ackah Business Immigration Law/Crossing Borders Seamlessly
As an immigrant to Canada herself, Evelyn Ackah is the Founder and Managing Lawyer at Ackah Business Immigration Law. She has been practicing law since 1999 and brings knowledge for immigration law to her corporate and individual clients from all over the world. Business immigration law focuses on helping people move into new opportunities — both personally and professionally.
Ackah Immigration Law helps you to navigate the complex maze of rules and regulations involved with Canadian, U.S. and International immigration law with confidence. Headquartered in Calgary and with offices in Vancouver and Toronto, Ackah Business Immigration Law provides legal immigration advice for those looking to move for work, education or personal reasons.
Evelyn Ackah, Founder/Managing Lawyer of Ackah Business Immigration Law, shares her firm's range of work and approach to helping clients.
Calgary immigration lawyer explains why she founded Ackah Business Immigration Law
N.L. woman says paperwork gaffe nixed costly bid to reunite family
Canadian tech could benefit if Trump ends work permits for visa holder spouses: experts
Hard road for Red Deer shooting victim ends with gratitude, happiness
Biography
Starting her legal career as a corporate/commercial lawyer, Ackah soon discovered she craved the rewards of having more direct contact with clients. Business immigration law allows her to work with corporations and the people who make them successful. The highly specialized nature of business immigration law drives Ackah to remain at the forefront of legal and policy developments to ensure her clients are fully compliant with the latest regulatory and policy changes, and that they understand the nuances and impacts of these changes to their business and their people.
Ackah calls on previous corporate/commercial experience when clients are establishing new corporations or making North American investments. Before establishing her own law firm, Ackah was a Partner and Co-founder of a specialized boutique HR law firm in Alberta and British Columbia. She was also a Partner at a leading national law firm and served as the head of the business immigration practice.
Ackah is called to the bar in both Alberta and Ontario. Having graduated from Simon Fraser University with a Bachelor of Arts degree (Political Science) in 1993, she went on to receive her Bachelor of Law degree from the University of British Columbia in 1997.
Ackah has mentored dozens of young law students across the country that are looking for guidance and support as they begin their careers. She has helped raise millions of dollars to help move low-income women and their children out of poverty and into financial security in her previous role as a National Committee member and Chair of the Calgary "Women Moving Women" campaign on behalf of the Canadian Women's Foundation. She is also a past member of the Board of Directors of the Canadian Institute for the Administration of Justice, she served as Treasurer of the American Immigration Lawyers Association — Canada Chapter and served on the Executive of the Ontario Bar Association — Immigration Section. She was also Vice Chair of the Immigration Section of the National Bar Association (US). Evelyn also served four years as a Director and Member of the Executive Committee of Junior Achievement of Central Ontario. Evelyn also regularly participates in charitable 10k and half marathon races to raise funds for different organizations.
Ackah has been recognized by The Who's Who Legal organization as an Expert in Corporate Immigration Law from 2010 to 2014. She was honoured to be nominated by one of her clients and chosen as one of Avenue Magazine's Top 40 Under 40 in Calgary in 2010. Most recently in 2013, she was nominated as an RBC Woman Entrepreneur of the Year. In 2014, she received the Obsidian Awards Professional of the Year Award from The African, Caribbean and Afro-Canadian Society of Excellence in Alberta. In 2018, Ackah Business Immigration Law was voted Top Business Immigration Law Firm in Calgary Region.