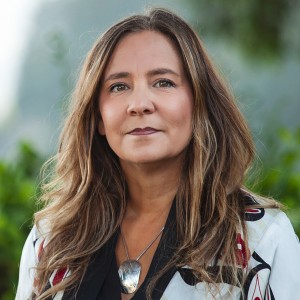 Teara Fraser
Founder and CEO, Raven Institute
Building bridges between Indigenous and non-indigenous peoples (reconciliation), Development of humans, teams, organizations, nations rooted in Indigenous worldview, Indigenous Women in Business and Leadership, Warriorship: Leading Brave-Hearted, Aviation, Safety
Biography
Teara traveled to Africa and while in a small airplane for the very first time, as she accelerated down the runway her 'heart came to life'. She returned to Canada to fly her first solo flight a few months later. Within one year her Commercial Pilot's Licence was in hand and she has been flying commercially since.
In 2010 she started her first business – KÎSIK Aerial Survey Inc. which provides aerial photography acquisition services directly to Governmental, Environmental, Mapping, Engineering, Utilities and Geospatial users. KÎSIK is a Cree word for Sky. She built this business from the ground up and sold it in 2016.
Teara undertook the comprehensive Conflict Resolution certificate program offered by the Justice Institute of BC. She is a certified negotiator and facilitates conflict resolution workshops within aviation, as well as the wider community. As a facilitator, Teara has been experimenting with World Cafés as well as Fishbowls and is convinced of the power to connect, share ideas and harvest collective wisdom through meaningful dialogue.
Teara holds a Master of Arts in Leadership degree from Royal Roads University and she is a Certified Executive Coach. Teara completed the Aboriginal Focusing-Oriented Therapy (AFOT) and Complex Trauma certificate at JIBC. The journey of learning now takes her to Fielding University where she is studying in the Human Development PhD program.
A deep commitment to leadership and safety inspired her to establish the Aviation Leadership Foundation in 2008 . Teara also proudly served as Director, Executive Director and Strategic Advisor for the British Columbia Aviation Council (BCAC). She continues to offer her aviation expertise to aviation companies as a strategic advisor, regulatory advisor, safety expert, executive coach, incident/accident trauma coach, and leadership development designer. Teara is honoured to be a Co-Founder and Co-Chair of PAWN (Professional Aboriginal Women's Network).
Teara's passion has taken flight with the Raven Institute. The Raven Institute hosts a gathering space to connect hearts, minds and hands. Rooted in indigenous ways of knowing and being, contributing to the development of humans, organizational systems, and community. The Raven Institute is a learning, reconciliation, resilience, healing, gathering place and space that weaves in traditional Indigenous practices and worldview.
Teara's next adventure on the horizon is Iskwew Air.....
Proud of her Indigenous ancestry, she is a member of the Métis Nation of Northwest Territories.