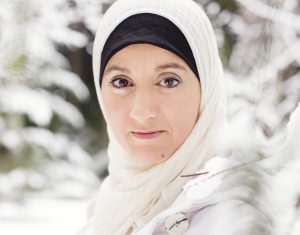 Dr. Dyhia Belhabib
Program Manager, Fisheries, Ecotrust Canada
Illegal fishing, Regulations in fisheries in Canada, Fisheries equity, Food security, Values associated with fishing and social finance, Community MPA, Access rights, Environmental crimes, Slavery in the seafood sector, drug trafficking in the Seafood sector, Quotas and licencing system, Political ecology, Fisheries economics, International policy engagement, Africa
Biography
Dyhia Belhabib joined Ecotrust Canada in September 2016 as the Programme Manager for Fisheries. Before joining Ecotrust, Belhabib was the lead researcher and engagement focal point for the Sea Around Us Africa at the University of British Columbia (UBC). Her work focuses on fisheries equity, food security, values associated with fishing and social finance. Through her experience on issues such as illegal fishing, unfair fisheries agreements, lack of appropriate fisheries data, climate change and governance, conflicts and natural disasters, Belhabib serves as an advisor for the Sea Around Us, and on the board of the Research Centre of the Ministry of Fisheries of Algeria, and FishTracker. Her work added a great deal of transparency and insight through thorough research on fisheries of the developing world.
Belhabib holds a PhD from the University of British Columbia in Resource Management and Environmental Studies, a Master's in Science from the University of Quebec in Rimouski, and an engineering degree from the Institute of Marine Sciences of Algiers (Algeria).
Research Grants
I-Sea Fisheries
Organization: Paul M. Angell Family Foundation
Date: September 1, 2017
Grant amount: 420,000 CAD
Details:
Dyhia is the Principal Investigator of I-Sea Fisheries, a project that will publish a criminal record of high mobility fishing vessels, to add transparency to the fishing sector, and create a barrier to high risk fishing vessels to accessing fishing waters that are otherwise vital for the livelihood and food security of small-scale fishing communities. The project uses the database created by Dyhia called: The Criminal Record of Fishing Vessels (c) 2018 Dyhia Belhabib.