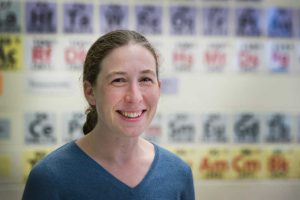 Prof. Erika Merschrod
Professor, Department of Chemistry, Memorial University of Newfoundland
Surface Science, Materials Science, Biomaterials, Optoelectronic Materials, Functional Materials, Low-Dimensional Materials, Sensors, Tissue Scaffolds, Raman, TERS, SERS, AFM, SPM, cAFM, KPFM, EFM, Hierarchical Materials, New Material Design, Scanning Probe Techniques.
Rub-a-dub-shrub: My plunge into the well-being world of forest bathing
'Persist. Keep at it': Chemistry prof advises women in sciences
Biography
Dr. Erika Merschrod is a professor of chemistry at Memorial University of Newfoundland. She has a BA in Chemistry from Bryn Mawr College and a PhD in Theoretical Chemistry from Cornell University. Her cross-disciplinary research in hierarchical materials emphasizes multi-scale materials design for novel properties. Researchers in her group design, prepare, characterize, and model new composite films and coatings with applications in sensors, antifouling coatings, and tissue scaffolds. In addition to new materials design, Merschrod's group is also interested in new materials characterization methods, particularly scanning probe techniques.