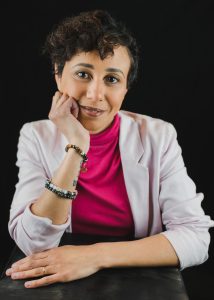 Kelly Bron Johnson is a Black, non-binary, autistic and hard of hearing self-advocate who is the founder of Completely Inclusive. The organization is a social enterprise focused on teaching businesses how to be inclusive and accommodating to all diverse and underrepresented people, including BIPOC, LGBTQ+, people with disabilities and those with food allergies. They are also the founder of The Autistic Entrepreneurs Network, an initiative that aims to support autistic would-be entrepreneurs and create a mentorship and micro-grant community.
Learn more: compinclus.ca and aenetwork.ca
Welcome to the inaugural episode of Autism Canada's new podcast, Sharing the Spectrum. Today we welcome Kelly Bron Johnson.
Canadians on the autism spectrum reveal the internal pain they deal with every day. Find out more by watching You Can't Ask That, Thursdays at 9 p.m. Eastern, on AMI-tv. Catch it on demand after the broadcast on AMI.ca or the AMI-tv App.
Kelly Bron Johnson from Completely Inclusive is interviewed on Autism Live, Sept 16, 2019
The pandemic gave some neurodivergent workers the office they need. Now, we're 'going backwards'
Son's autism an incentive for activist to create supportive solutions
self published
September 16, 2020
978-0-9780305-2-0
How to Parent Like an Autistic is a guide for neurotypical parents of an autistic child. Written by an autistic mom of an autistic child, with additional insight compiled through a survey of autistic parents, this guide helps parents understand the autistic mind. It gives concrete examples and tips to help parents build confidence in their parenting approach. It's a non-judgemental book that feels this unique approach to parenting that many autistic parents share will develop happier and more confident autistic adults.
Written by the disabled community for the disabled community -- a collection of short fiction, memoirs, and poetry from writers around the world. Also features original artwork from artists who identity as disabled. A first of its kind, Disabled Voices captures life as a disabled person: from the bad and ugly, to the good and victorious, and anything in between. Some pieces deconstruct and/or challenge ableism, or embody a spirit of disability and community and activism rather than inspiration for abled people.
Autistic Press
October 5, 2018
1938800079
What happens when you make it to adulthood before finding out you're autistic?
As A.J. Odasso writes in this anthology: "You spend a lot of time wondering what's wrong without ever knowing why."
This anthology includes essays from a diverse group of adult-diagnosed autistic people. Our essays reflect the value of knowing why--why we are different from so many other people, why it can be so hard to do things others can take for granted, and why there is often such a mismatch between others' treatment of us and our own needs, skills, and experiences. Essay topics include recovering from burnout, exploring our passions and interests, and coping with sensory overload, especially in social situations.
If you know you're autistic, are beginning to wonder, share similarities with autistic people, or want to support an adult autistic friend or family member--or if you simply want to know why it's so important that autistic adults know we're autistic--this book is for you.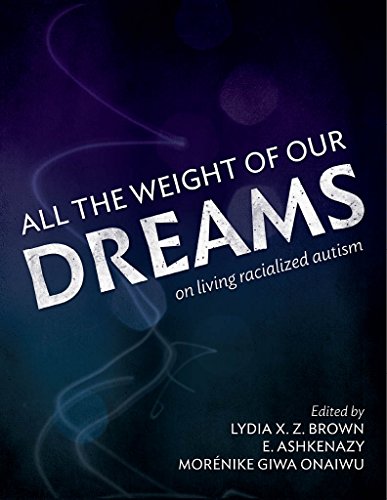 All the Weight of Our Dreams: On Living Racialized Autism
by Autism Women's Network (Author), Lydia X. Z. Brown (Editor), E. Ashkenazy (Editor)
DragonBee Press
June 28, 2017
Delve into poetry, essays, short fiction, photography, paintings, and drawings in the first-ever anthology entirely by autistic people of color, featuring 61 writers and artists from seven countries. The work here represents the lives, politics, and artistic expressions of Black, Brown, Latinx, Indigenous, Mixed-Race, and other racialized and people of color from many autistic communities, often speaking out sharply on issues of marginality, intersectionality, and liberation.
Biography
Mx. K. Bron Johnson is an Autistic and Hard of Hearing (HoH) self-advocate. They are the founder of Completely Inclusive, a social enterprise consultancy devoted to Inclusion and Accessibility in the workplace. As a mixed-heritage Black, non-binary individual, they bring their lived experience and intersecting identities to all their work, and challenges people to see Disabled People, 2SLGBTQ+, BIPOC, and all oppressed or marginalized peoples in a different light. Johnson is also interested in mitigating the effects of Colonialism and Intergenerational Trauma and how we can work together to dismantle systemic inequities in society.
Additional Titles and Affiliations
Lions Club International - Montreal Autism Community
I am a founding member and the Marketing and Communications Chair of the Montreal Autism Community Lions Club.
Certified Psychological Health and Safety Advisor
The Canadian Mental Health Association. July 2021
Canadian Author's Association - Professional Member as of Jan 2021
My profile can be found here: https://canadianauthors.org/national/view-profile/?member_id=7613
Promo 21 - Board Secretary (March 2019-March 2020)
Board Secretary of Promo 21, a nonprofit social enterprise exclusively hiring autistic and Intellectually Disabled people to produce silk screen printed promotional products.
Autism Canada - Board Director (May 2017-Sept 2020)
Board Director at Autism Canada, a national charity that encourages people to See The Spectrum Differently and aims for people on the Autism Spectrum to have full, healthy and happy lives.
Past Talks
Think Outside The Circle - Including Neurodivergent Minds in Restorative Practices
Roots of Change - Alberta Restorative Justice Association Annual Conference
Edmonton, AB, November 25, 2022
Cultural Sensitivity
Roots of Change - Alberta Restorative Justice Association Annual Conference
Edmonton, AB, November 25, 2022
Amplifying Workplace Accommodations
HRPA Summer Conference 2022
virtual , July 28, 2022
Do Great Minds Think Alike? - How (Neuro) Diversity Benefits Everyone
Diversity in Mining - Bits and Bytes info series
virtual , January 28, 2021
ASD Cyber Safe Program
DisInfoSec 2021
YouTube Live and Twitch, September 18, 2021
How to Create a Completely Inclusive Workplace Culture
CANNEXUS by Ceric, Canada's Career Development Conference
Ottawa, ON, January 27, 2021
Keynote: Intersectional Feminism 101
The Intersections of Women in Leadership
Ryerson University - Ryerson Women in Leadership, September 23, 2020
The Benefits of Inclusive Hiring to Your Bottom Line
The Sustainable Business Development Summit
virtual, April 28, 2020
Keynote: Creating Neuro-Inclusive Workplace Cultures
iNOD 2020
virtual, April 2, 2020
Keynote Speech: How to Advocate for Wellness in the Workplace
Frame of Mind conference by Autism Job Club and Autism LifePath
DeGroote School of Business, Burlington, Ontario, November 2, 2019
What Autistic People Want You to Know About Working With Us
24th Annual CASE Conference for Supported Employment
Montreal, June 13, 2019
5 Quick Wins to Improve Workplace Accessibility and Diversity
https://www.eventbrite.ca/e/5-quick-wins-to-improve-workplace-accessibility-and-diversity-tickets-58794672448?aff=ebdssbdestsearch
Montreal, April 11, 2019