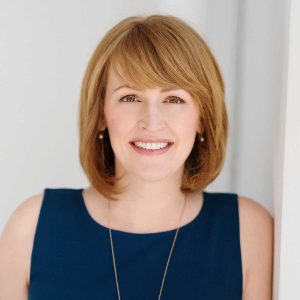 Christine's world turned upside down when just days following her mother's brain surgery, something went terribly wrong. Christine's mother woke up from the surgery having forgotten her. What is love if all the memories we share have been surgically removed?
Are you or someone you know too busy to be happy?
For many people, it can feel like you just don't have time to catch up and a crushing feeling that you can't handle the life you have created for yourself. The harder you try to juggle it all, the more burned out you feel, and your attempts to keep up just aren't working.
Christine knows this feeling well because she is an expert at being busy. For most of her life, she was especially amazing at being too busy to be happy. This lifestyle eventually led to her burnout, then years more spent healing and learning all she could in order to recover. She's not alone.
Meet Christine Laperriere, founder of Leader in Motion and Executive Director of Women of Influence in Toronto. Christine's focus as a coach is to help individuals and organizations operate at their maximum potential, from enhancing their leadership capabilities to navigating change and growing high performing teams.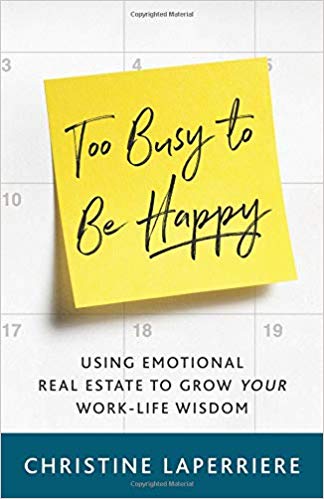 Too Busy to Be Happy: Using Emotional Real Estate to Grow Your Work-Life Wisdom
by Christine Laperriere
Lioncrest Publishing
March 9, 2019
978-1544501697
What do you do when you can't handle the life you've created and you feel you don't have time to catch up? From the outside, your life looks successful. But inside you're overwhelmed and exhausted. ¬ The harder you try to juggle it all, the more burned out you feel, and your attempts to keep up are not working. Everyone has a finite amount of emotional real estate to process decisions, change, drama, baggage, and relationships. Too Busy to Be Happy reveals how you can make conscious choices about what you allow to occupy it, and how to defend those choices against the inherent impulse to do it all. With eight practices for dealing with the challenges you encounter every day, Christine Laperriere shares her personal story and teaches you how to reclaim and boost your energy and work-life wisdom. Perfect for book clubs or to work through on your own, Too Busy to Be Happy shows you it is possible to be successful and sane—to finally be both busy and happy.
Biography
As Founder of Leader In Motion and the Executive Director of the Women of Influence Advancement Centre, Christine Laperriere has built her career around helping companies retain their most talented employees. She leads important change around women, leadership skills, and reducing stressful workplace culture. She is a well-known speaker and is launching her first book, Too Busy to Be Happy focused on the importance of worklife wisdom. Today she leads multiple corporate engagements using training and coaching focused on the development and advancement of high potential women, the growth of manager and director level professionals and she also sits as an advisor to sales leadership for over 5 sales organizations.
Background: Laperriere started her career with an undergraduate and master's degree in mechanical engineering. After years as a design engineer, she joined a management consulting firm and in 2008, she made the bold decision to begin her own firm. In addition to her master's in engineering and six-sigma blackbelt, she currently holds certifications in Transformative Coaching, Neuro-Linguistic Programming (NLP), Gestalt psychotherapy, and Miller Heiman sales & business development processes.
Clients: Laperriere has worked with numerous companies over the past 13 years of her consulting career including: KPMG, Vanguard Investments, Vale, Samsung, TD Canada Trust, Sun Rich Fresh Foods, SureShot Dispensing, McCormick Canada and SureWerx Safety, American Express, Asigra Cloud Computing, Porter Airlines and Scotiabank. Laperriere has an archive of BlogTalkRadio interviews and has been featured as a subject matter expert on CTV News, Globe and Mail Report on Business and in each Women of Influence Magazine for the past six years.