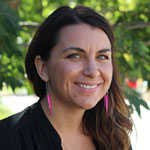 A presentation from InterAccess's 30th Anniversary MECHA KUCHA, an evening of 3-minute talks by 30 media arts practitioners.
JULIE NAGAM, PhD. is an Assistant Professor at OCAD University in the Indigenous Visual Culture program and her research interests include a (re)mapping of the colonial state through creative interventions within concepts of native space. Current SSHRC research projects include Canadian performance and political theory and Indigenous digital and new media. Nagam's creative practices include working in mixed media, such as drawing, photography, painting, sound, projections, new and digital media. Her work where white pines lay was shown in San Paulo, Brazil and Lyon, France in 2013 and singing our bones home was shown in Landslide/Possible Futures in Markham, ON and Ecocentrix in London, England.
Julie Nagam and Jaimie Issac: Providing a powerful platform for insurgence and resurgence
Nuit Blanche 2020: How do you throw an all-night contemporary art thing in a pandemic?
Biography
Dr. Julie Nagam is the first-ever University of Winnipeg/Winnipeg Art Gallery Chair in Chair in History of Indigenous Art in North America. She is currently working on the SSHRC project The Transactive Memory Keepers: Indigenous Public Engagement in Digital and New Media Labs and Exhibitions.
Nagam is a co-applicant in the partnership grant Initiative for Indigenous Futures and will be hosting the first Public symposium entitled, Radically Shifting Our Indigenous Future(s): Through Art, Scholarship and Technology at the Winnipeg Art Gallery.
Her most recent publications include, Traveling soles: Tracing the footprints of our stolen sisters (2017) and Deciphering the refusal of the digital and binary codes of sovereignty/self- determination and civilized/savage (2016).
Currently, she is curating public art at The Forks in Winnipeg and is part of a team that is creating an Indigenous App about Winnipeg's art, architectural and place-based history.
Her artwork where white pines lay over the water, was shown in, Toronto, Ontario; San Paulo, Brazil; Lyon, France; and Wellington, New Zealand. Her installation, singing our bones home, was shown in Markham, Ontario (2013); in London, England (2013); and in Winnipeg (2014).
Nagam is creating new work for the Winnipeg Arts Council, Nuit Blanche in Toronto, and the Smithsonian in New York.