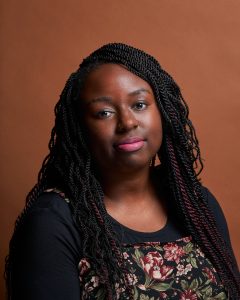 Kharoll-Ann Souffrant, M.S.S/M.S.W
Ph.D. student in Social Work and Vanier scholar, 2020 United Nations Fellow for People of African Descent, University of Ottawa
Sexual violence against women, Feminist movements, Black feminism, Afrofeminism, Intersectionality, Race and Gender, Social responses to sexual violence disclosures, Mental Health, Human Rights of People of African Descent, Hashtag Activism, Online social movements.
Biography
Born in Montreal and of Haitian origin, Kharoll-Ann Souffrant is a social worker and speaker. She is a doctoral student at the University of Ottawa and a Vanier scholarship recipient. Her thesis focuses on sexual violence experienced by Black women in Quebec in connection with the #MoiAussi (#MeToo) movement of 2017 and #AgressionNonDénoncée (#BeenRapedNeverReported) movement of 2014. Kharoll-Ann holds a bachelor's and master's degree in social work from McGill University and a college diploma in Youth and Adult Correctional Intervention from the Collège Ahuntsic. She has worked as a volunteer, counsellor and social worker with populations with a variety of psychosocial difficulties as well as in the health and social services network.
In recent years, Kharoll-Ann has become particularly known for her activism against sexual violence against women and for promotion of mental health. She has been a sought after speaking since 2015. Kharoll-Ann is regularly called upon to participate in the media on themes related to her areas of expertise. Since 2020, she is a columnist for À Babord, a journal of politics and social movements. She is currently writing her first essay to be published in 2021 with Les Éditions du remue-ménage.
For her commitment, Kharoll-Ann has received some twenty community and university awards including the Young Woman of Distinction award from the YWCA of Montreal, the Terry Fox Humanitarian Award and the Relève award from the Order of Social Workers of Québec. She was named one of the most distinguished personalities of 2016 by the Journal de Montréal and ELLE Québec magazine. Winner of Black History Month in 2020, Kharoll-Ann was included in a list of 100 Black women to watch across the country published on the occasion of the Canada International Black Women Event. She is now an Action Canada Fellow for 2020/21.
Kharoll-Ann has been recently selected as a 2020 United Nations Fellow for People of African Descent by the Office of High Commissioner of Human Rights in the context of the UN International Decade for People of African Descent (2015-2024).
Often described as a quiet force, Kharoll-Ann aspires to a career in teaching and university research in social work. Through each of her actions, she fervently wishes to embody the adult she needed when she was younger, for the greatest number of people.
Recognition/Reconnaissance
Black History Month Laureate 2020 | Professional
Recognizing the achievements and contributions of Black Youth in Montreal under the theme "Here and Now"
Young Woman of Distinction | Professional
by the YWCA of Montreal.
Top 100 Black Women to Watch Canada 2019 | Professional
by CIBWE.
Terry Fox Humanitarian Award | Professional
Terry Fox Humanitarian Award recipients are selected for their dedication to the humanitarian ideals of Terry Fox, their courage in overcoming obstacles, and definite marks of distinction and persistence in the pursuit of excellence in academic, athletic, and civic life.
Research Grants
Vanier Canada Graduate Scholarship
Organization: Social Science and Humanities Research Council of Canada
Date: September 1, 2019
Grant amount: 150 000
Details:
The Vanier scholarship is the most prestigious doctoral scholarship in Canada. Considers three equality weighted criteria: academic excellence, research potential, and leadership.
More information: http://www.vanier.gc.ca/en/scholar_search-chercheur_recherche_2019.html