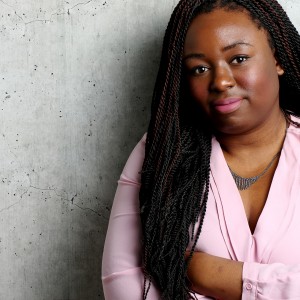 Kharoll-Ann Souffrant and Véronique Jacques Woman of Distinction 2016 | Young Woman of Distinction category presented by DDB
Biography
Kharoll-Ann Souffrant is an award-winning social worker and Ph.D. student in Social Work at the University of Ottawa. She is the recipient of the Vanier scholarship, the most prestigious doctoral scholarship in Canada.
Her research interests include sexual violence against women, as well as the experiences of women after reporting or revealing their sexual assault. Her doctoral thesis looks at the #BeenRapedNeverReported and #MeToo movements within the Quebec context from the perspective of Black women.
Souffrant is also a sought-after public speaker in English and French. Since 2015, she has given talks to various groups including the Government of Quebec, the Office of the Ombudsman for Mental Health of the Government of Canada, TEDxQuebec, health and social services practitioners, community workers and youth, to name a few.
Recognition/Reconnaissance
Black History Month Laureate 2020 | Professional
Recognizing the achievements and contributions of Black Youth in Montreal under the theme "Here and Now"
Young Woman of Distinction | Professional
by the YWCA of Montreal.
Top 100 Black Women to Watch Canada 2019 | Professional
by CIBWE.
Terry Fox Humanitarian Award | Professional
Terry Fox Humanitarian Award recipients are selected for their dedication to the humanitarian ideals of Terry Fox, their courage in overcoming obstacles, and definite marks of distinction and persistence in the pursuit of excellence in academic, athletic, and civic life.
Research Grants
Vanier Canada Graduate Scholarship
Organization: Social Science and Humanities Research Council of Canada
Date: September 1, 2019
Grant amount: 150 000
Details:
The Vanier scholarship is the most prestigious doctoral scholarship in Canada. Considers three equality weighted criteria: academic excellence, research potential, and leadership.
More information: http://www.vanier.gc.ca/en/scholar_search-chercheur_recherche_2019.html