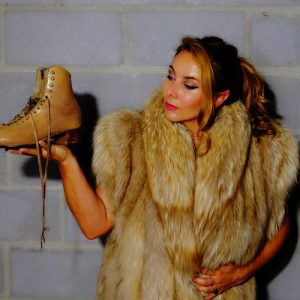 Chantal Fry describes how she created Glisse on Ice to bring the art of skating to places you least expect.
The Lucky Few PodcastRadio/Podcast
URL: https://notablelife.com/talking-motherhood-and-entrepreneurship-with-three-hit-wonder-chantal-fry/
TALKING MOTHERHOOD AND ENTREPRENEURSHIP WITH THREE HIT WONDER CHANTAL FRY.
Chantal Fry is what I like to call a Multipotentialite. Running 3 businesses while still having the time to be there for her husband and kids, Chantal knows how to get things done. On this episode, we learn about Chantal's incredible professional skating history, her connection to the nicest restaurants in the city of Toronto and her growing Rose business. Stay tuned to learn about self-belief, relationship building, grand thinking and much more. Thanks for tuning in and enjoy!
Biography
Chantal Fry is a Toronto-born creative entrepreneur, award winning event specialist, and figure skater with 15 years of experience spanning from Europe to North America. Fry created Glisse on Ice to bring the art of skating to unexpected places and is now an award winning event entertainment company. She co-founded Savourez Fine Foods with her husband Laurent and in the summer months she introduces new exclusive rosé wines at special luxury events and restaurants. She is fluent in English, French, and Spanish, and lived 8 years in Marseille. She holds a Bachelor of Arts in International relations, Political Science and Journalism as well as being a certified figure skating coach in Canada and France. Fry is a multi media professional and passionate storyteller and is always looking to expand her curiosities through new experiences.
Past Talks
Dragon's Den
Dragons Den pitch
CBC