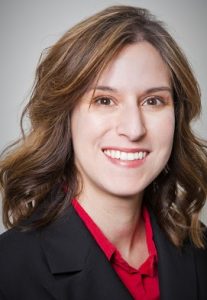 Jennifer Winter
Assistant Professor and Scientific Director, Energy and Environmental Policy, School of Public Policy, University of Calgary
Climate policy, Energy policy, Environmental policy, Carbon pricing, Natural resource development, Public finance and the environmental consequences of resource development
University of Calgary economist Jennifer Winter explains why carbon pricing is preferable to regulations as a way to reduce greenhouse gas emissions.
Alberta election panel discusses issues facing province's oil and gas industry
Global News, March 28, 2019Television
URL: https://globalnews.ca/news/5105835/alberta-election-panel-discusses-issues-facing-provinces-oil-and-gas-industry/
Ahead of Alberta's 2019 provincial election, Dallas Flexhaug sat down with a panel of experts to discuss issues facing the province's oil and gas industry.
Canadian Energy Pipeline Association (CEPA) President and CEO Chris Bloomer, associate professor of economics from the University of Calgary Trevor Tombe, Jennifer Winter from the University of Calgary's School of Public Policy and journalist Jen Gerson talk about pipelines, the carbon tax, diversification and everything in between.
Albertans eager to save some money with death of provincial carbon tax
A tale of 2 taxes: how carbon pricing and revenue rolls out in Alberta versus Sask.
Biography
Jennifer Winter is an Assistant Professor and the Scientific Director of the Energy and Environmental Policy research division at The School of Public Policy, University of Calgary. Her research evaluates climate policies, and examines the effects of government regulation and policy on energy development and the associated consequences and trade-offs. Winter's current research projects include carbon pricing costs for households in Canada; comparing provincial emission-reduction policies; and federalism and climate policy. She is also co-editing a book on the experiences of Indigenous communities with resource development in Canada. She has testified to the Senate of Canada on emissions pricing policies based on her work in this area, and has advised the Government of Alberta and Government of Canada in several capacities.
Winter is actively engaged in increasing public understanding of energy and environmental policy issues; recognition of her efforts include a 2014 Young Women in Energy Award, being named one of Alberta Oil Magazine's Top 35 Under 35 in 2016, one of Avenue magazine's Calgary Top 40 Under 40 in 2017, and one of Canada's Clean50 and Clean16 in 2019. She serves on the Future Leaders Board of Directors of the World Petroleum Council Canada, the advisory committee of the Alberta Narratives Project, and the City of Calgary Climate Panel, is a member of the Mitigation Expert Panel at the Canadian Climate and Clean Growth Institute, and is a member of Global Affairs Canada's Environmental Assessment Advisory Group.