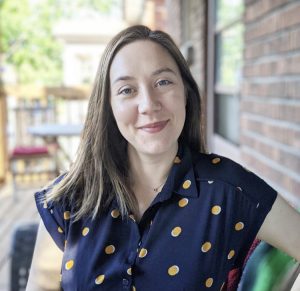 Opinion: Rebuild our social safety nets, not just our economy
The case for finally adopting a basic income
When women are on the ballot -- they win
Telegraph JournalPrint
URL: https://tj.news/story/101021531
This op-ed outlines statistics demonstrating that in New Brunswick municipal elections, women win at a rate equal to or greater than men when their names are on the ballot.
More Than a Place of Refuge: Meaningful engagement of Government-assisted refugees in the future of work
Published by Action Canada/ Public Policy Forum
March 13, 2020
Biography
Feeling like the conversation around inclusive and diverse decision making was lacking on the East Coast in Canada, Katie Davey created Femme Wonk – a policy, politics, and current affairs using an inclusion lens. Through Femme Wonk, she also speaks, consults, and hosts a book club. Once called 'the feminist money girl,' Davey advocates for the integration of economic and social policy.
She is currently leading policy projects at the Public Policy Forum. She has served as Director of Policy and Stakeholder Relation at the Office of the Official Opposition in New Brunswick, Senior Advisor for Policy and Stakeholder Engagement in the New Brunswick Premier's Office, and President of the University of New Brunswick Student Union.
Davey is a member of the Youth Working Group on Gender Equality for the Government of Canada, and a 2019/20 Action Canada Fellow. She holds a Degree in Political Science from the University of New Brunswick and a Master of Applied Politics from Wilfrid Laurier University.