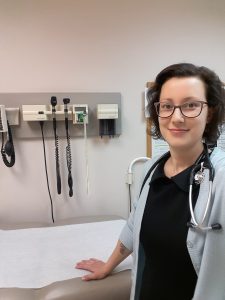 Violating Nature's health laws: how an eccentric early 20th century influencer set the stage for the COVID infodemic
by Michelle Cohen
Published by Healthy Debate
October 11, 2022
Gender segregation, pay inequity. Understanding the 'pink-collar' tier in medicine
by Michelle Cohen
Published by Healthy Debate
June 19, 2022
Medical abortion is an essential service during the pandemic
by Michelle Cohen
Published by Canadian Family Physician
April 1, 2021
Closing the gender pay gap in Canadian medicine
by Michelle Cohen, Tara Kiran
Published by Canadian Medical Association Journal
August 31, 2020
End immigration detention: an open letter
by Michaela Beder, Michelle Cohen, Katrina Hui, Carolina Jimenez
Published by The Lancet
July 12, 2018
Biography
Dr. Michelle Cohen is a family physician at the Lakeview Family Health Team and the Haliburton, Kawartha, Pine Ridge District Health Unit. She holds a medical degree from the University of Toronto.
She is an assistant professor in the Department of Family Medicine at Queen's University and sits on the Advocacy Committee of Canadian Women in Medicine. She also serves as a delegate for her region at the Ontario Medical Association.
Dr. Cohen has written articles for the CBC, Toronto Star, Ottawa Citizen, Maclean's, Medical Post and Chatelaine. She speaks widely on issues relating to primary care, rural health, women's health, equity in medicine and pseudoscience and health communication.