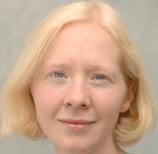 Professor Kimberley Brownlee, of the University of Warwick's Department of Philosophy, appears live on Newsnight to discuss the impact self-isolation may have on those self-isolating due to COVID-19.
Kimberley Brownlee, professor of philosophy at the University of Warwick, explores what we could do to prevent loneliness.
Interview on the book Being Sure of Each Other, with Heidi Tworek
'Stop Labelling People Who Commit Crimes "Criminals"'
'Why Say "Hello" to Strangers'
'Do We Have an Obligation to Live for as Long as Possible?'
Oxford University Press
May 26, 2020
9780198714064
We are deeply social creatures. Our core social needs—for meaningful social inclusion—are more important than our civil and political needs and our economic welfare needs, and we won't secure those other things if our core social needs go unmet. Our core social needs ground a human right against social deprivation as well as a human right to have the resources to sustain other people. Kimberley Brownlee defends this fundamental but largely neglected human right; having defined social deprivation as a persistent lack of minimally adequate access to decent human contact, she then discusses situations such as solitary confinement and incidental isolation. Fleshing out what it means to belong, Brownlee considers why loneliness and weak social connections are not just moral tragedies, but often injustices, and argues that we endure social contribution injustice when we are denied the means to sustain others. Our core social needs can clash with our interests in interactive and associative freedom, and when they do, social needs take priority. We have a duty to ensure that everyone has the opportunity to satisfy their social needs. As Brownlee asserts, we violate this duty if we classify some people as inescapably socially threatening, either through using reductive, essentialist language that reduces people to certain acts or traits—'criminal', 'rapist', 'paedophile', 'foreigner'—or in the ways we physically segregate such people and fail to help people to reintegrate after segregation.
Oxford University Press
October 18, 2012
ISBN-13: 9780199592944
The book shows that civil disobedience is generally more defensible than private conscientious objection.
Part I explores the morality of conviction and conscience. Each of these concepts informs a distinct argument for civil disobedience. The conviction argument begins with the communicative principle of conscientiousness (CPC). According to the CPC, having a conscientious moral conviction means not just acting consistently with our beliefs and judging ourselves and others by a common moral standard. It also means not seeking to evade the consequences of our beliefs and being willing to communicate them to others. The conviction argument shows that, as a constrained, communicative practice, civil disobedience has a better claim than private objection does to the protections that liberal societies give to conscientious dissent. This view reverses the standard liberal picture which sees private 'conscientious' objection as a modest act of personal belief and civil disobedience as a strategic, undemocratic act whose costs are only sometimes worth bearing.
The conscience argument is narrower and shows that genuinely morally responsive civil disobedience honours the best of our moral responsibilities and is protected by a duty-based moral right of conscience.
Part II translates the conviction argument and conscience argument into two legal defences. The first is a demands-of-conviction defence. The second is a necessity defence. Both of these defences apply more readily to civil disobedience than to private disobedience. Part II also examines lawful punishment, showing that, even when punishment is justifiable, civil disobedients have a moral right not to be punished.
Oxford Legal Philosophy publishes the best new work in philosophically-oriented legal theory. It commissions and solicits monographs in all branches of the subject, including works on philosophical issues in all areas of public and private law, and in the national, transnational, and international realms; studies of the nature of law, legal institutions, and legal reasoning; treatments of problems in political morality as they bear on law; and explorations in the nature and development of legal philosophy itself. The series represents diverse traditions of thought but always with an emphasis on rigour and originality. It sets the standard in contemporary jurisprudence.
Biography
Kimberley Brownlee is a Professor of Philosophy at the University of British Columbia. Her current work focuses on loneliness, belonging, social human rights, and freedom of association. Her past work focused on civil disobedience, punishment, and restorative justice. She is the author of Being Sure of Each Other (Oxford University Press, 2020) and Conscience and Conviction: The Case for Civil Disobedience (Oxford University Press, 2012). Prior to her appointment at UBC, she was a Professor of Philosophy at the University of Warwick. She has held numerous visiting positions including a Visiting Fellowship at All Souls College, Oxford (2019-20); a Visiting Fellowship at the Australian National University (2019), a Fulbright Visiting Research Chair at Vanderbilt University (2008); an HLA Hart Visiting Research Fellowship at University College, Oxford (2009); a CEPPA Visiting Research Fellowship at St Andrews University (2009); and a Warwick-Monash Visiting Fellowship at Monash University (2015). Brownlee is the recipient of a Philip Leverhulme Prize (2012). She has served on the executive committees of the Aristotelian Society (2014-2017), the Philosophical Association (2012-2016), and the Society for Applied Philosophy (2007-2013).
UBC faculty webpage: https://philosophy.ubc.ca/profile/kimberley-brownlee/