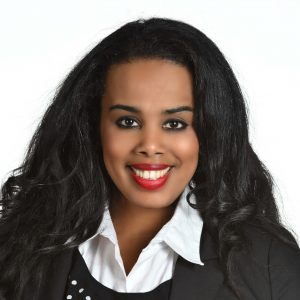 Meet Meseret Haileyesus: Founder of the Canadian Center for Women's Empowerment and Maternity Today
Economic Abuse: The Disproportionate Impacts on Black Women
Biography
Meseret Haileyesus is a social justice advocate, change-maker, intersectional feminist, and entrepreneur. She is the founder of the Canadian Centre for Women's Empowerment (CCFWE), which has a keen interest in addressing systemic barriers and other challenges that prevent women and girls from fully realizing their human rights. CCFWE is the only Canadian nonprofit organization dedicated to raising awareness of economic abuse and transforming responses to it. Haileyesus works to influence public policy decisions that support domestic violence survivors to make a successful transition to economic independence. She seeks to fill the gaps for the development of new approaches to address economic injustice by reviewing existing systems, policies, and procedures in Canada. CCFWE highlights the issue of economic injustice through responding to national policy consultations and working with individuals in local and national government.
Born and raised in Ethiopia and now living in Canada, Haileyesus has worked tirelessly for decades to advocate for women and child health around the world as well as economic empowerment for women and marginalized peoples. With a background in midwifery, economics, global health, and aromatherapy, she drives social change by advocating for high-quality and accessible sexual and reproductive healthcare for women on a global scale, with a goal of ending gender-based violence. She has spent over 16 years working with various national and international non-profit organizations on dozens of projects centred on issues of HIV/AIDS prevention, poverty reduction, sexual and reproductive health rights, quality of maternal and newborn health, and building community capacity to take action to advance social justice initiatives.
Haileyesus is a member of multiple UN and World Health Organization programs, where she produces strategies to reinforce the reproductive health components for health sector reform programs in developing countries. She serves as an ambassador for World Pulse, a global network to amplify women. She also serves as an ambassador for the RHEALYZ Global Empowerment Initiative Africa, a Nigerian organization that helps individuals, families, and organizations achieve sustainable development goals. She is also President of Global Humanitarian Community, and Director for End FGM Canada Network. Prior to relocating to Canada, Haileyesus worked on maternal and child health programs particularly on maternal child health and reproductive health rights, where she had the profound pleasure of assisting many marginalized pregnant African women through the amazing journey of pregnancy, childbirth, and new motherhood in Ethiopia. These experiences combined with her lifelong commitment to gender equality and women's health and well-being led Haileyesus to found Maternity Today, an international non-profit organization that strengthens women and child health through superior advocacy, research, and education in developing countries.
Beyond her social justice and public health involvement, Haileyesus is also the owner of Nacre Organics, and an advocate with David Suzuki Foundation for the promotion of nontoxic green personal care products, a "biodegradable plastic-waste free planet" and zero-waste packaging. As a health and wellness industry entrepreneur, she is also a program advisor at Algonquin College's Esthetician and Spa program. Nacre Organics is a plant-based wellness and lifestyle brand she launched with her daughter. Her mission is to create exquisite skincare, drawing upon her knowledge of clinical aromatherapy and natural skincare formulation, vitality, and wellness. Haileyesus was also a co-founder of Novigo Natural Skin Care. A percentage of the profits are donated to support domestic violence survivors. She was named one of the 100 Most Accomplished Black Canadian Women for several awards.