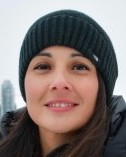 Richard Feehan (Alberta Minister of Indigenous Relations) and Tarra Wright Many Chief (Executive Director, Indigenous Tourism Alberta)
announced an initiative to increase Indigenous tourism in Alberta on Tuesday December 11, 2018 at the River Cree Resort and Casino in Edmonton.
Province gives $575,000 boost to Indigenous tourism in Alberta
Explore Blackfoot History on St. Patrick's Island with Many Chief Tours
Biography
Tarra Wright Many Chief is a proud member of the Kainai Nation in Southern Alberta. She shares her culture through Many Chief Tours in Calgary, Alberta. She is also the CEO and founder of Many Chief Consulting Ltd., an Indigenous-owned consulting firm that focuses on community economic development and supports Indigenous participation in the economy.