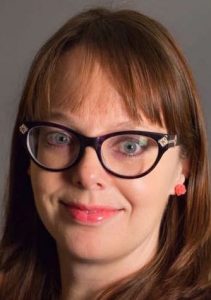 Ontario should make miscarriage a medical priority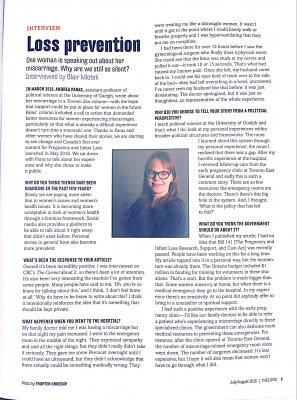 Loss prevention
THIS Magazine, July 1, 2016Print
In this interview, I argue that there should be better resources for women who experience miscarriage, so what is already a difficult experience does not turn into a traumatic one.
Fewer Canadian students opting to study abroad
Canada has an interest in Tibet's fate
Tibet Misstep
NOW Magazine, November 7, 2014Online
URL: https://nowtoronto.com/news/tibetmisstep/
This op-ed provides evidence that a Tibetan cultural festival at the TIFF Bell Lightbox was Chinese propaganda, and argues that Torontonians should find ways to support the local Tibetan community in showcasing and preserving its culture.
Humanitarian or missionary?
Research Matters: Council of Ontario Universities, October 27, 2014Online
URL: http://yourontarioresearch.ca/2014/10/7646/
In this research profile, I discuss how my work explores the relationship between religion and humanitarian work. I argue that the religious values of different humanitarian organizations affect their practices, and how Christians in Canadian faith-based organizations find ways to strategically distinguish between missionary and development work.
Sovereignty and Solidarity: Moral Obligations: Confessional England, and the Huguenots
Published by The International History Review
February 13, 2014
This article addresses the question of the emergence of sovereignty and moral obligation through a study of the Protestant English state and its relations with and policies towards the French Huguenots in the latter half of the sixteenth century. The authors take as their starting point the fact that the emergence of sovereignty in early-modern England was made possible by the consolidation of a confessional identity, and therefore cannot be divorced from the religious politics of the time. Their argument, based on such a historical reading of the gradual enforcement of territorial sovereignty and the simultaneous practices of solidarity with 'outsiders' beyond territorial boundaries, is that moral obligation played a role in the formation of English sovereignty, rather than being entirely exogenous to the process. This gives the authors reason to reconsider the relationship between moral obligation and sovereignty. The case demonstrates how the emergence of sovereignty led to the expansion of moral obligations rather than their narrowing. The main contribution of the article is to question commonplace assumptions about sovereignty and moral obligation, and to offer an avenue along which to re-think how one accounts for the emergence of sovereignty in the early-modern era and beyond.
URL: http://www.tandfonline.com/doi/abs/10.1080/07075332.2013.879912
CIDA's Secular Fiction and Canadian faith-based organisations
Published by Canadian Journal of Development Studies
July 26, 2012
Many have argued that the secularism that dominates both political science and development studies neglects how religion has historically contributed to development practices, as well as the potential of faith-based organisations (FBOs) to bring a more holistic approach to development. Despite these arguments, it remains difficult for secular donor agencies and FBOs to engage with each other. Drawing on interviews with key organisational actors, this article examines how the secular fiction – that is, the separation between religion and politics – plays out in policy and in Canadian International Development Agency's (CIDA's) relationship with FBOs. The article argues that CIDA and Canadian FBOs stand to gain by re-engaging with each other, and it identifies a number of obstacles preventing such a policy of engagement.
URL: http://www.tandfonline.com/doi/full/10.1080/02255189.2012.689253
Between Missions and Development: Christian NGOs in the Canadian Development Sector
Published by Canadian Journal of Development Studies
August 22, 2014
This paper examines how Canadian Christian development organisations construct the boundaries between missions and development work. Because of their participation in evangelism, and their often conservative political and social stances, missionary organisations are considered marginal actors and are regarded with suspicion by donor agencies, secular NGOs and more liberal faith-based NGOs. Yet, they remain primary service providers in many development contexts. They make complex political decisions about fundraising and resource allocation, and these choices are affected by their efforts to balance between religious identity and strategic goals. These choices have become more difficult as missionary organisations have experienced increased pressure from the Canadian International Development Agency and their own donors to "NGO-ise".
URL: http://www.tandfonline.com/doi/full/10.1080/02255189.2014.934213
Biography
Andrea Paras joined the Department of Political Science in the University of Guelph in 2012, after spending a year working at the Asian University for Women in Chittagong, Bangladesh. Her research investigates the political and ethical consequences of international humanitarian action. She also has research interests in religion and global politics, specifically on how the faith identities of NGOs influence their development practices. Another area of expertise is in the design of short-term international study abroad programs, with a focus on cultivating and assessing intercultural competence skills amongst students. Her work cuts across multiple disciplines, and makes contributions to the fields of international relations, development studies, international ethics, history, and critical pedagogy. She is the recipient of several teaching and research awards, including the 2016 Award for Teaching from the College of Social and Applied Human Sciences at the University of Guelph, and the 2016 Panorama Award for Outstanding International Education Program from the Canadian Bureau of International Education.
Recognition/Reconnaissance
2016 Faculty Teaching Award | Professional
This award recognises excellence in teaching within the College of Social and Applied Human Sciences at the University of Guelph.
2016 Panorama Award for Outstanding International Education Program | Professional
The Canadian Bureau for International Education provides this annual award to international educations programs that demonstrate innovation and excellence. This award was given in recognition of the innovative design of the 2015 India Field School organised through the Centre for International Programs at the University of Guelph.
Additional Titles and Affiliations
Qualified Intercultural Development Inventory (IDI) Administrator
Research Grants
Scholarship of Teaching and Learning Grant
Organization: University of Guelph
Date: May 31, 2016
Grant amount: $12,000
Details:
The SoTL award was created by the Office of the Associate Vice-President (Academic) at the University of Guelph to encourage a deeper commitment to the Scholarship of Teaching and Learning and as a critical tool in the University's ongoing efforts as a community to strengthen the learning environment for students.