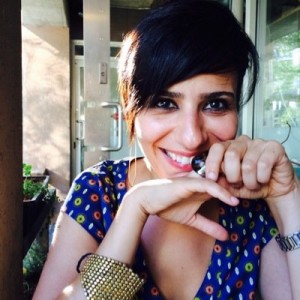 SFU History professor Mark Leier interviewed in November 2015 by SFU Surrey's head librarian Baharak Yousefi for the IRMACS Research Masterclass series.
Five Things to Know about Arundhati Roy
Simon Fraser University to join the Association of Research Libraries in 2018
Opinion: The library: a community's place to gather
Published by The Vancouver Sun
September 12, 2012
I didn't grow up with books. My family didn't go to libraries. In fact, I don't come with any of the typical librarian origin stories of a childhood spent falling in love with the written word. The first library I ever visited was my school library in the eighth grade, the year my family immigrated to Canada. I went in and never left. I didn't care what they had on the shelves; I looked at everything. I looked because I couldn't yet read in English. A year later, I read.
URL: http://www.vancouversun.com/news/opinion+library+community+place+gather/7233191/story.html
Guest opinion: why libraries should get into the book-selling business
Published by Quill & Quire
July 9, 2013
It may be sacrilegious and antithetical to everything libraries stand for (and as librarians, we appreciate this more than most), but we ardently believe it nevertheless: libraries should get into the business of selling books. Now. The crisis in Canada's once vibrant book industry is negatively affecting our reading lives and communities. Growing evidence suggests that the increasing dominance of big corporations and discount giants is resulting in less diversity of ideas.
URL: http://www.quillandquire.com/libraries/2013/07/09/guest-opinion-why-libraries-should-get-into-the-book-selling-business/
How to be a Good (Library) Boss
Published by Letters to a Young Librarian
May 19, 2016
I am in the business of encouraging librarians to apply for library management jobs. When I come across smart, awesome, politically progressive librarians (which happens with delightful frequency), I try to convince them to consider management. This is not because I think management is the only path forward for these wonderful humans, but because I want more smart, awesome, and politically progressive folks at those tables. I want them there because libraries need to be changing in big, fundamental ways, and right now, as things stand, that's where the power to push for those changes resides. Often, the librarian (aka my target) will ask me what I think it takes to be a good library manager and my answer, without fail, is "be a decent human being." Now, as true as that may be, I appreciate that it is not very specific. What follows is an attempt to expand the list, in no particular order:
URL: http://letterstoayounglibrarian.blogspot.ca/2016/05/how-to-be-good-library-boss-by-baharak.html
Five Things to Know about Arundhati Roy
Published by The Tyee
2014 The God of Small Things, Arundhati Roy's debut novel, was published in 1997. It won the Booker Prize, sold more than six millions copies, and was translated into over 40 languages. That was just the beginning. In the 17 years since, Roy has turned to writing non-fiction and become one of the most important and powerful voices in today's progressive discourse. She has used her position as a celebrated author to bring attention to urgent issues from globalization and American imperialism, to the role of gender in resistance movements, to the forced displacement of India's villagers and tribal people in the name of economic development. Careful readers of The God of Small Things have not been surprised. Mode of storytelling aside, speaking truth to power has always been in Roy's wheelhouse.
Biography
Baharak Yousefi is a librarian and head of Library Communications at Simon Fraser University, Vice-Chair and Chair Elect on the Board of the BC Libraries Cooperative, and an active member of BC's library community. She received a Master of Arts in Women's Studies in 2003 and a Master of Library and Information Studies in 2007. Yousefi's current research interests include feminist and community-led librarianship. She lives on the unceded traditional lands of the Musqueam, Skwxwu7mesh, and Tsleil-Waututh people in Vancouver, BC.
Additional Titles and Affiliations
BC Libraries Cooperative
British Columbia Library Association