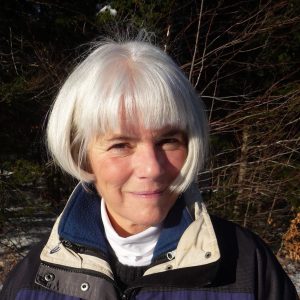 Donna Thomson: The Caregiving Effect - When Love Meets Necessity.
Donna Thomson's new book, The Four Walls of My Freedom, is a riveting and redemptive memoir about her family's experience coping with her son's cerebral palsy. Her blog is www.donnathomson.blogspot.com
Donna Thomson's book launch for "The Four Walls of my Freedom", with an introduction by John Ralston Saul Donna's talk starts at 12:55
Nicole Scheidl of Fit Minds, a company that creates programs for caregivers of individuals suffering from Alzheimer's and other forms of dementia and Donna Thomson, author and activist speak about being 'real' as a caregiver.
Disability writer Donna Thomson's clear-eyed look at the value of a life
The Unexpected Journey of Caring: The Transformation From Loved One to Caregiver
by Donna Thomson and Zachary White, PhD
Rowman & Littlefield
June 8, 2019
ISBN-10: 1538122235 ISBN-13: 978-1538122235
With a foreword by Judy Woodruff, The Unexpected Journey of Caring is a practical guide to finding personal meaning in the 21st century care experience.
Personal transformation is usually an experience we actively seek out—not one that hunts us down. Becoming a caregiver is one transformation that comes at us, requiring us to rethink everything we once knew. Everything changes—responsibilities, beliefs, hopes, expectations, and relationships. Caregiving is not just a role reserved for "saints"—eventually, everyone is drafted into the caregiver role. It's not a role people medically train for; it's a new type of relationship initiated by a loved one's need for care. And it's a role that cannot be quarantined to home because it infuses all aspects of our lives.
Caregivers today find themselves in need of a crash course in new and unfamiliar skills. They must not only care for a loved one, but also access hidden community resources, collaborate with medical professionals, craft new narratives consistent with the changing nature of their care role, coordinate care with family, seek information and peer support using a variety of digital platforms, and negotiate social support—all while attempting to manage conflicts between work, life, and relationship roles. The moments that mark us in the transition from loved one to caregiver matter because if we don't make sense of how we are being transformed, we risk undervaluing our care experiences, denying our evolving beliefs, becoming trapped by other's misunderstandings, and feeling underappreciated, burned out, and overwhelmed.
Informed by original caregiver research and proven advocacy strategies, this book speaks to caregiving as it unfolds, in all of its confusion, chaos, and messiness. Readers won't find well-intentioned clichés or care stereotypes in this book. There are no promises to help caregivers return to a life they knew before caregiving. No, this book greets caregivers where they are in their journey—new or chronic—not where others expect (or want) them to be.
The 'ouR-HOPE' approach for ethics and communication about neonatal neurological injury
Published by Developmental Medicine & Child Neurology
The 'ouR-HOPE' approach for ethics and communication about neonatal neurological injury
by Eric Racine, Emily Bell, Barbara Farlow, Steven Miller, Antoine Payot, Lisa Anne Rasmussen, Michael Shevell, Donna Thomson and Pia Wintermark
Published by Developmental Medicine & Child Neurology
Biography
Donna Thomson is the author of The Four Walls of My Freedom: Lessons I've Learned From a Life of Caregiving (The House of Anansi Press, 2014) and is the co-author of The Unexpected Journey of Caring: The Transformation of Loved One to Caregiver (Rowman and Littlefield, June 2019). Thomson is the board Vice-Chair of Kids Brain Health Network, a National Network Centre of Excellence. She is also the co-designer and co-instructor of the Family Engagement in Research Certificate Program at CanChild, McMaster University and instructs the online course, Caregiving Essentials, also at McMaster. Thomson is a Pro Guide for family caregivers at Huddol.com and is the co-founder of Lifetime Networks Ottawa, an affiliate of PLAN Institute.
Additional Titles and Affiliations
PRO GUIDE at Huddol.com
Huddol is a Canadian national online support network for patients and families. The Pro role involves monitoring online support groups and providing online one to one coaching and health navigation to family caregivers.
Senior Advisor, CHILD-BRIGHT SPOR Research Project
Past Board Director and Vice-Chair, Kids Brain Health Network (NeuroDevNet)
Kids Brain Health Network (KBHN) is a Canadian Network Centre of Excellence supporting research in the area of childhood disability. https://kidsbrainhealth.ca/
Past Talks
Keynote - Chambers Family Lifespan Address
AACPDM 70th Annual Meeting
Hollywood, FLA, September 22, 2016
Keynote: Innovation and Ethics
Festival of International Conferences on Caregiving, Disability, Aging and Technology
Toronto, ON
Family Participation and Exchange: An Ongoing Priority
7th Annual Brain Development Conference
Calgary, AB, September 28, 2016
CPIM Family Engagement Event: Living Life and Fulfilling Potential
7th Annual Brain Development Conference
Calgary, AB, September 30, 2016
Book Reading with Intro by J.R. Saul, IFOA
International Festival of Authors, Harbourfront http://www.openbooktoronto.com/events/ifoa_disability_activist_donna_thomson_conversation_with_john_ralston_saul
Toronto, ON, October 23, 2010