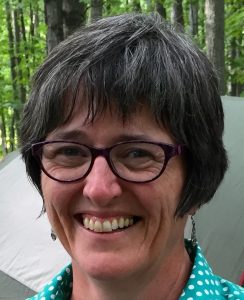 Biography
Elaine Power has been teaching HLTH 101, The Social Determinants of Health, to hundreds of undergraduate students each year. Students learn that income, income inequality, education, racism, colonialism, and political decisions are more important determinants of health than diet, exercise and other lifestyle factors. Her research on food insecurity—inadequate or insecure access to food because of financial constraints—and its impacts on health, have led her to advocate for an unconditional basic income that is adequate to meet basic human needs. Power uses qualitative research methods and critical social theory to investigate food practices, especially in relation to income and social class. She currently holds a research grant from the Social Sciences and Humanities Research Council to explore the potentials and limitations of community food programs, such as community gardens, hot meal programs, and food banks, to reduce food insecurity. Power is a founding member of the Canadian Association for Food Studies, and co-founder of the Kingston Action Group for a Basic Income Guarantee.
Past Talks
Why food charity is not enough
Voices for Change Halton
Oakville, ON, May 26, 2017
The social construction of food insecurity in Canada
Centre for Sustainable Food Systems Research and Engagement Seminar Series
Thunder Bay, ON, February 28, 2017
The social construction of food insecurity: A Canadian Perspective
PROOF Conference on Food Insecurity
Toronto, ON, November 18, 2016
Using Basic Income to address food insecurity
Senate Of Canada Liberal Open Caucus
Ottawa, ON, November 30, 2016
The case for Basic Income
Put Food in the Budget Annual Meeting
Toronto, ON, May 12, 2016
The potential impact of a Basic Income Guarantee on community economic development
Thousand Islands Workforce Development Board Meeting
Gananoque, ON, October 5, 2016
The promise and the perils of Basic Income
Sunday Service
Christ Church, Gananoque, ON, September 11, 2016
Let's talk BIG: A Guaranteed Annual Income for All
Community Event
Fenelon Falls, ON, September 21, 2016
Making Zero Hunger with Basic Income
Food Secure Canada Panel, Food Insecurity 101
Toronto, ON, October 15, 2016
Eliminating food insecurity with a Basic Income Guarantee
Ontario Society of Nutrition Professionals in Public Health Annual Meeting
Toronto, ON, May 12, 2016
Food insecurity and the promise of a Basic Income Guarantee
Durham Local Food Solutions Symposium
Whitby, ON, April 6, 2017
Building food security through a basic income guarantee
Public Meeting
Thunder Bay, ON, February 28, 2017
Basic Income: Dismantling systemic barriers
Elizabeth Fry Journeys to Healing Annual Conference
Kingston, ON, May 3, 2016
"Come and live in my shoes": Food access and social isolation for people living in poverty in Gananoque and Leeds & The Thousand Islands
Conversations about Food
Gananoque, ON, April 5, 2017
Research Grants
How can Canadian municipalities ensure the right to food?
Organization: Social Sciences & Humanities Research Council
Details:
STUDY OBJECTIVES Almost 4 million Canadians cannot afford to buy the food they need. In an effort to alleviate this burden, municipal-level food programs (MLFPs) that aim to improve access to food have emerged across the country. The proposed study will critically evaluate how municipalities across Canada promote the right to food aims by addressing the following six objectives: 1. capture the successes and challenges encountered by municipal organizations delivering food- based programs; 2. describe the firsthand experiences of, and benefits accrued by, MLFP program participants; 3. identify barriers to program participation for non-users; 4. examine the costs of delivering MLFPs; 5. investigate the municipal and provincial conditions and policies that facilitate success for MLFPs to enhance the right to food; and 6. develop evidence-based guidelines for MLFPs and recommendations for municipal and provincial governments to promote the right to food at the municipal level in Canada.
More information: http://www.queensu.ca/gazette/stories/recognizing-top-researchers?utm_source=e-queens-gazette_staff