The University of Manitoba has launched a new speaker series hosted by President and Vice-Chancellor Dr. David T. Barnard. This is the first of the series, with the speakers addressing the theme of Apocalypse or Utopia? Featured speakers for the event were: David Barber, Rick Holley, Karen Busby, Michael Freund, Diana Brydon and Brenda Elias. Below is more info on the series: Livable Cities: 21st Century Perspectives Tuesday, October 18, 2011 Robert B. Schultz Theatre, St. John's College, Fort Garry Campus Reception in Galleria - 6:30 PM - 7:00 PM Panel Discussion -- 7:00 PM - 8:30 PM Featured speakers: Michelle Richard - Director, Campus Planning Ralph Stern - Dean, Faculty of Architecture Richard Milgrom - Head and Associate Professor, Department of City Planning, Faculty of Architecture RSVP for the October 18 event to:  government_relations@umanitoba.ca. You can also interact with the University of Manitoba on Twitter and Facebook. Our Visionary Conversations speaker series will continue throughout the year.  Please join President and Vice-Chancellor David T. Barnard and the university community for these themed events: November 9 -- Our Aging Society December 14 -- Our Changing Climate February 15 -- Managing Our Water Resources for the Future April 11 -- Human Rights and Gender Issues June 13 -- The Food We Eat http://www.umanitoba.ca/about/vc/
Have we found the right mix of humanitarian effort, military intervention, and resettlement supports for refugees who want to make a home here and those who hope to return home? Wednesday, February 3, 2016 Moderator: Karen Busby [JD/81] Professor, Faculty of Law, and Director of the University of Manitoba Centre for Human Rights Research Panelists: Abdikheir Ahmed Coordinator, Immigration Partnership Winnipeg Abdikheir Ahmed previously served as executive director of the Immigrant and Refugee Community Organization of Manitoba. He has been working in Winnipeg's inner city since he immigrated to Canada in 2003 and has won awards for his work building bridges between new immigrants, Indigenous people and other established groups. Ahmed has a master's degree in international peace and conflict resolution and helped found Humankind International, which opened and runs an early childhood education centre in the Dadaab refugee camp in Kenya. Shauna Labman Assistant professor, Faculty of Law, University of Manitoba Dr. Shauna Labman's research interests include immigration and refugee law, human rights, citizenship and international law. She focuses on the layered influences of law on public policy and government positioning. Labman has worked with refugees and on human rights issues as a consultant for the United Nations High Commissioner for Refugees in New Delhi and with the Canadian Embassy in Beijing. She is co-founder of the Migration Law Research Cluster at the University of Manitoba's Faculty of Law. Armando Perla Researcher-curator, Canadian Museum for Human Rights; Instructor, Human Rights Law, Faculty of Law, University of Manitoba Armanda Perla holds a master's degree in international human rights law from Lund University in Sweden and a bachelor of laws from L'Université Laval in Québec City. The former refugee from El Salvador is fluent in Spanish, English and French and has worked with human rights organizations around the world. Perla wrote a chapter on agricultural migrant workers in the recently released book The Idea of a Human Rights Museum published by the University of Manitoba Press. Lori Wilkinson Sociology professor, University of Manitoba; Director, Immigration Research West Dr. Lori Wilkinson specializes in immigration and refugee studies. She heads Immigration Research West, which works with service providers and government offices to enhance knowledge of the settlement experiences and outcomes of newcomers to Western Canada. Wilkinson is also editor-in-chief of the Journal of International Migration and Integration. Thank you to our partner: The Centre for Human Rights Research
In light of issues raised surrounding consent and personal safety following the Jian Ghomeshi allegations, U of M law professor Karen Busby joins us to break down consent and the law in BDSM relations.
Duelling Approaches to Sex Work
Winnipeg Free Press, December 7, 2016Print
URL: http://www.winnipegfreepress.com/opinion/analysis/duelling-approaches-to-sex-work-405206716.html
TWO important Winnipeg agencies may be at odds over how to approach the harm of sex work. The Winnipeg Regional Health Authority issued a position statement last week calling for decriminalization of sex work between consenting adults as a necessary step to promote the health and human rights of sex workers. This statement echoes the position taken by major public health organizations, including the World Health Organization and the Canadian Public Health Association. The Winnipeg Police Service, meanwhile, noted in its quarterly report to the Winnipeg Police Board this week the number of people involved in street solicitation has dropped significantly in recent years. But the report goes on to state the Internet has expanded the size of the sex industry and created a whole new class of workers involved through indoor work: those who initiate sexual-service transactions online. The report implies more police resources are needed to keep up with the more technologically savvy sex industry.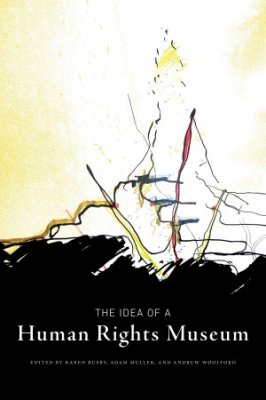 The Idea of a Human Rights Museum
by Karen Busby (editor), Adam Mueller (editor), Andrew Woolford (editor)
University of Manitoba Press
978-0-88755-782-8
The Idea of a Human Rights Museum is the first book to examine the formation of the Canadian Museum for Human Rights and to situate the museum within the context of the international proliferation of such institutions. Sixteen essays consider the wider political, cultural and architectural contexts within which the museum physically and conceptually evolved drawing comparisons between the CMHR and institutions elsewhere in the world that emphasize human rights and social justice.
Fernwood Publishing
9781552666579
"Sex Was in the Air": Pernicious Myths and Other Problems with Sexual Violence Prosecutions (by Karen Busby)
The human rights to water and sanitation in courts worldwide: a selection of national, regional, and international case law
Published by WaterLex
Of Surrogate Mother Born: Parentage Determinations in Canada and Elsewhere
Published by Canadian Journal of Women and the Law
2013 This article examines statutory regimes and judicial decisions in Canada on parentage and citizenship for children born to surrogate mothers and compares these laws with those of other countries, especially Britain and Australia. Provincial parentage laws (with the notable exception of Québec) and federal law and policy on citizenship favour an expedited process requiring minimal, if any, judicial or administrative oversight on issues related to exploitation such as free and informed consent or financial arrangements. In contrast, British and Australian processes are more inquisitive, expensive, inflexible, and time consuming. Complicated post-birth parentage and citizenship laws do little to protect women against exploitation because, after the birth, surrogate mothers are almost never reluctant to hand over children to intended parents. As long as a genetic link is established between an intended parent and the child, concerns about child trafficking should also be assuaged. Once a child is born, and absent the rare case where disputes arise between the surrogate mother and the intended parents or where there is no genetic link between the child and an intended parent, it will almost always be in that child's best interests to establish the child's parentage and citizenship quickly and with certainty.
URL: http://www.utpjournals.press/doi/abs/10.3138/cjwl.25.2.284
One little, too little: Counting Canada's indigenous people for improved health reporting
Published by Social Science & Medicine
2015 The way state governments, worldwide, count or do not count Indigenous peoples has contributed to inconsistent reporting of Indigenous health statistics. To address unreliable reporting in Canada, we reviewed laws on Indian status and the development of a national Indian Registration System (IRS) to track Indian status and eligibility. With this information as a guide, we linked the IRS to the Manitoba provincial health registry systems and were able to identify individuals with Indian status for health reporting. To improve reporting, we identified individuals often missed in this type of linkage. For instance, we identified children and adult children who were eligible for Indian status but not yet registered. Equally as important, we identified individuals not eligible for Indian status but have Indian heritage and/or represent potential individual Indian status eligibility cases before the courts to right a historic form of identity sex discrimination that has made them invisible in Canadian society and health reporting. A familial kinship approach was used to identify Indian children and adult children typically missed when a strict legal entitlement criteria is used for data linkage. Our reflective socio-legal data linkage approach expanded the number of Indian peoples for health reporting purposes and demonstrated a feasible, inclusive way to report on the health of Indians in Canada.
URL: http://www.sciencedirect.com/science/article/pii/S0277953615003469
Every Breath You Take: Erotic Asphyxiation, Vengeful Wives and Other Enduring Myths in Spousal Assault Prosecutions
Published by Canadian Journal of Women and the Law/Revue Femmes et droit
All Manner of Wickedness Abounds: Reconciling Religious Rights and Queer Rights"
Published by Human Rights: Political and Legal Dimensions (University of Toronto Press)
"Providing Essential Services of Reasonable Quality to All Canadians": Understanding Section 36(1)(c) of the Constitution Act, 1982 (working title)
Published by Review of Constitutional Studies/Revue d'études constitutionelles 191-212
Biography
Karen Busby has been with the Faculty of Law at the University of Manitoba since 1988. Recipient of the University of Manitoba's highest teaching award in 2015 (the Saunderson Award for Teaching Excellence), she teaches Constitutional Law, Gender and the Law, Human Rights and Administrative Law. She does about 40 media interviews a year on topics related to law and sex (gendered violence, sexuality, sexual orientation, assisted human reproduction, sex work, sexual expression), religious rights, and Aboriginal Rights. Her current research projects include: consent and BDSM; influences on young Muslim women; health care providers obligations to report suspected child abuse; a comparison of sex work laws in Canada and India; and the human right to water, especially in First Nations communities.
Additional Titles and Affiliations
Law Society of Manitoba : Member
Canadian Bar Association
Research Grants
The Right to Clean Water in First Nations: The Most Precious Gift
Organization: PI, SSHRC Partnership Development Grant
Grant amount: 200000
Details:
2013-
Sex Work Laws in India and Canada: A Comparative Analysis
Organization: CI, Shastri Institutional Collaborative Research Grant (SICRG)
Grant amount: 12000
Details:
notice received in January 2016
Reconciling Health-care Providers' Obligation to Report Abuse With the Rights of Adolescents Who Have Had Sex
Organization: PI, University Collaborative Research Program
Grant amount: 25000
Details:
2016-
Right to clean water in First Nations communities
Organization: CI, NSERC CREATE
Grant amount: 1.65 million
Details:
2013-
Making Big Decisions: Influences on Young Muslim Women in Canada
Organization: PI, University of Manitoba Legal Research Institute
Grant amount: 8000
Details:
2015-
Gendered Violence and Violations
Organization: PI, UM/SSHRC Travel Grant
Grant amount: 1500
Details:
2014
International Association of Genocide Scholars Conference
Organization: CI, SSHRC Connections Grant
Grant amount: 25000
Details:
2014
Celebrating First Nations and Metis Research Partnerships
Organization: PRE/SSHRC
Grant amount: 12722
Details:
2012