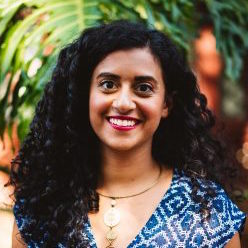 Jacky Habib is a Canadian journalist, based between Toronto and Nairobi. She has contributed to CBC, The Toronto Star, The National Post and others. Her work focuses on humanitarian issues, social justice, and women's rights. She's reported from a dozen countries on issues including the famine in Ethiopia, refugee policy in Uganda, and the state of emergency with regard to sexual violence in Sierra Leone. 
Jacky recently joined Informed Opinions as a facilitator, and her workshop "Insider Strategies for Becoming a Go-to Media Source" received overwhelmingly positive responses from attendees. We've put together a quick Q&A so you can get to know her…
Why did you become a journalist?
I have always seen a link between journalism and social impact. When I was younger, I often read stories about various social justice issues happening around the world and I felt so strongly that things should be different and we should all be working to change that. 
So, naturally when it came time for me to decide what I wanted to do with my career, being a journalist was one of the first things that came to mind, because it always seemed like a way to make an impact, and that has really been my driving force. 
Over the last decade, I have been privileged to report in many countries, and I've focussed my reporting on social justice, global development, and women's rights. It's been a beautiful way to meet remarkable people who are fighting for justice, and of course, people who are impacted by various justice issues who are open to sharing their stories with me.  And that's really what keeps me going, even with the challenges that I may encounter.
From personal experience, what is a common misconception people have about journalists in general?    
Some people think that journalists are out to get them. At times when I interview people, they're concerned about being misquoted or being quoted out of context. And so I believe it's really the role of the journalist to reassure their source and convey how they're approaching the article or broadcast report, walking an individual through how they verify information and their commitment to accuracy. 
Journalists are not able to show their article to their sources before it gets published, but they can definitely fact check quotes to ensure accuracy. Typically when I say that to individuals who are concerned, it reassures them.
What led you to become a workshop facilitator and what do you enjoy most about it?
All of the experiences I've had as a journalist over the last decade working in newsrooms in several countries have enriched my knowledge about how media works. Essentially, I wanted to be a workshop facilitator so I could pass on these learnings to other people. I facilitate all sorts of workshops, from helping people share their story and break into the press to supporting individuals who are just starting out with their freelance career. 
For me, it's a really neat way to take all of the insights I've gleaned over the years and share them with others, so they don't have to go through the same hoops that I went through, and so they can learn from my mistakes. I find it an incredibly rewarding experience, to be able to train and coach people through challenges they're facing and to see their growth, and know that my experiences and knowledge can support them through it. 
Why did you choose the work with Informed Opinions?
I've known about Informed Opinions' work for years, and I've always been impressed with the organization's mission. Uplifting the voices of women in the media is so important because we know women and gender diverse individuals are under-represented in the media, particularly as quoted experts. 
An organization committed to training women and spotlighting their expertise with journalists is so needed to diversify the stories that we're hearing and who we consider to be experts. I'm honored to be a part of Informed Opinions' network, and to facilitate workshops because I so strongly believe in that. I'm passionate about using my experiences as a journalist not only to tell underreported stories, but also to equip other women, non-binary, gender-diverse individuals, and people of colour to share their expertise more widely.
How would you describe your approach to facilitating? 
My approach to facilitating workshops is a combination of training as well as sparking conversations so we can all learn from one another. I also provide one-on-one coaching, even in a group setting, so that individuals can learn from the feedback I give to others present.  
I find that this combination really helps folks with different learning styles. Some want to be more engaged, ask questions, and share challenges they're having. Others prefer to sit back and listen and learn from other participants' experiences, and I give everyone the opportunity to engage as they wish. 
I explicitly tell people in my workshops that I'm happy for them to consider me a part of their network, and to keep in touch so that I can continue supporting them beyond the session. Meeting fantastic people is one of the highlights of my work!
Who would benefit most from your workshop?
It's geared towards those who are looking to figure the ins and outs of how to build relationships with journalists and get themselves featured in the press. It may be an individual who has received some press previously but doesn't know how to go about leveraging that. Or it might be someone wanting to pitch journalists to share the work that they are currently doing or their expertise on a certain topic. No prior experience working with journalists is required.
Jacky is offering her Insider Strategies for Becoming a Go-to Media Source workshop on March 9 & 11.