Remembering Inspirational Feminist Advocate, Shirley Greenberg
by Shari Graydon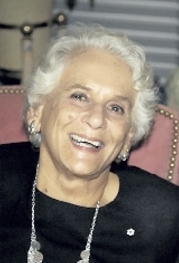 The staff and board of Informed Opinions join all of Ottawa, many thousands of women, and the extended Greenberg family in mourning the passing of Shirley Greenberg. 
An inspirational feminist advocate, role model and philanthropist, her generosity has made — and continues to make — a profound difference in the lives of countless women. 
Alongside many other feminist advocacy organizations, Informed Opinions benefited from Shirley's commitment to backing up her vision of equality with vital financial support. 
She funded both pragmatic essentials and visionary projects. Her most recent contribution to our work amplifying women's voices helped launch our campaign against the toxic hush of online hate. She well understood how much of a target women who dare to speak up and share their insights through legacy or social media become, and how profoundly online attacks threaten the progress we're making in the fight to ensure women are heard.
Now, with the benefit of her support, we are on the verge of releasing Every Woman's Right to Speak Free from Online Hate – A Peoples' Tribunal (streaming live via video on June 14th). Her early financial endorsement was pivotal both to the Tribunal and the
research
we're gathering to support it.