The "verbal attack" on Chrystia Freeland deters us all
by Shari Graydon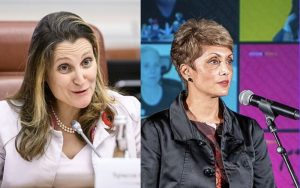 Does watching the video footage of Finance Minister Chrystia Freeland and her female colleagues being verbally attacked by a 250-pound belligerent bully make your heart race? 
(You're probably a woman.)
 
Although my own political confrontation with an angry and self-righteous crowd happened more than 20 years ago, and my boss was the object of their abuse, not me, my body dredges up and relives the fear. 
 
It's hard for most of us to comprehend how Ms. Freeland and her staffers – or Calgary Mayor Jyoti Gondek, or former Alberta premier and current opposition leader Rachel Notley – cope with the viciousness spewed at them daily. 
 
What we do know is that there are the consequences to these threats, both individual and societal, physical and emotional. 
 
Even if you think you have a thick skin from years of receiving hate mail as a woman in politics or journalism… Even if you're so regularly trolled on social media that muting and blocking is now second nature…  Even if you're toiling in an overwhelmingly male-dominated industry and have cultivated the ability to compartmentalize in order to just show up at work every day.
 
You're still probably suffering from some degree of PTSD – because that's what happens to bodies forced to contemplate profoundly threatening situations.
 
This punishing reality is one that too many women face every day. It has to stop.
 
Of course, high profile men also get attacked. 
 
But by and large, the language used is not sexually degrading. It doesn't insult their appearance, condemn their parenting, question their right to exercise power, or merely exist. 
 
The normalized misogyny that social media amplifies is now eroding equality gains that took decades to achieve. 
We know from the #ToxicHush campaign we launched last year that the worst of it is directed at women with intersectional identities  – those whose voices are already chronically under-represented. As a result, women in all their diversities are being driven from public conversations and crucial fields of influence, including politics.
 
This harms all of us. Because women's realities and concerns, our insights and solutions, must be integrated into and help shape public policies and priorities – including those aimed at addressing these issues.
 
Here's one way you can help:
Take 3 minutes to sign this petition urging our elected officials to take gender equality seriously in this country. The more signatures we get, the more likely it is that those with the power to change this indefensible imbalance will act.